We're Getting Mutants in the MCU - The Loop
Play Sound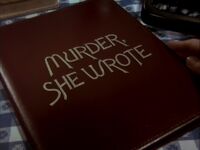 Murder, She Wrote: Season One
Murder, She Wrote: Season Two
Murder, She Wrote: Season Three
Murder, She Wrote: Season Four
Episodes:

"Witness for the Defense"
"Deadpan"
Murder, She Wrote: Season Five
Murder, She Wrote: Season Six
Murder, She Wrote: Season Seven
Murder, She Wrote: Season Eight
Murder, She Wrote: Season Nine
Murder, She Wrote: Season Ten
Murder, She Wrote: Season Eleven
Murder, She Wrote: Season Twelve
Murder, She Wrote: TV Movies
The Law & Harry McGraw
Novels
Games
DVDs
Production Information
[
]
Production Number:
Aired: October 4th, 1987
Written By: Robert E. Swanson
Directed By: Seymour Robbie
INSERT EPISODE SCREENSHOT HERE
Created By: Peter S. Fischer, Richard Levinson & William Link
Executive Producers: Peter S. Fischer
Producer: Robert F. O'Neill
Summary
[
]
Jessica goes to Quebec to testify at the trial of a friend who is accused of killing his wife and burning his house.
Trivia
[
]
Guest star Patrick McGoohan (Oliver Quayle) is most familiar to television fans from his long-standing roles on Danger Man (1960) and The Prisoner (1967).
Grady, Victoria And Tracy (Jessica's nephew and nieces) are mentioned in this episode.
Ironically, Christopher Allport plays the person accused of murder; the last time he appeared on the show in If the Frame Fits, he actually was guilty.
Victim: Patricia Harlan
Killer: Judith Harlan
Cause of death: Blunt force trauma to the head via a fireplace poker.
Motive: She refused to divorce Jim Harlan quietly, wanting to stay with him for the money & carry on her affair.
Goofs
[
]
Everyone speaks either British or mid-American English. Quebec City is a dominantly French-speaking area and most people if they speak English at all would have a French accent. Native English speakers have a very distinct Canadian accent. There are immigrants from Britain and the US but they are not the only people there.
The defendant is referred to as having served time in "Commonwealth prison". Canada has no such prisons. Canadian prisons are either federal or provincial.
When Miss Pirage had brought up that the gas jets were deliberately tampered with, but after the townhouse went up in flames, you tell me as to how the gas jets would have left prints on it, to prove that they were tampered with ?
Starring
[
]
Regular Cast
[
]
Angela Lansbury as Jessica Fletcher
Recurring Cast
[
]
Guest Stars
[
]
Christopher Allport as Jim Harlan
Richard Cox as Clay McCloud
Marilyn Hassett as Patricia Harlan
Simon Jones as Barnaby Friar
Dianne Kay as Monica Blane
Patrick McGoohan as Oliver Quayle
Juliet Mills as Annette Pirage
Claire Trevor as Judith Harlan
DVD Release
[
]
Episode Chronology
[
]
See Also
[
]
External Links
[
]