We're Getting Mutants in the MCU - The Loop
Play Sound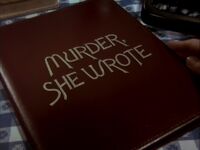 Murder, She Wrote: Season One
Murder, She Wrote: Season Two
Murder, She Wrote: Season Three
Murder, She Wrote: Season Four
Episodes:

"When Thieves Fall Out"
"Deadpan"
Murder, She Wrote: Season Five
Murder, She Wrote: Season Six
Murder, She Wrote: Season Seven
Murder, She Wrote: Season Eight
Murder, She Wrote: Season Nine
Murder, She Wrote: Season Ten
Murder, She Wrote: Season Eleven
Murder, She Wrote: Season Twelve
Murder, She Wrote: TV Movies
The Law & Harry McGraw
Novels
Games
DVDs
Production Information
[
]
Production Number:
Aired: September 27th, 1987
Written By: Arthur (David) Weingarten
Directed By: Seymour Robbie
INSERT EPISODE SCREENSHOT HERE
Created By: Peter S. Fischer, William Levinson & Richard Link
Executive Producers: Peter S. Fischer
Producer: Robert F. O'Neill
Summary
[
]
When a prisoner is released from jail after serving 20 years, he returns to Cabot Cove to prove he was wrongly convicted.
Trivia
[
]
The title is a quote from James William Emery Townsend, the notorious 19th century liar who said "When thieves fall out honest men get their dues. But when honest men fall out lawyers get their fees."
Victim(s): An unnamed businessman & Bill Hampton.
Killer: Coach Kevin Caudwell
Cause of death: Repeated blunt force trauma with a rock; gunshot to head (made to look like suicide).
Motive: To steal his bearer bonds and get rich; afraid Andrew Durbin's hassling would cause Bill to confess about the murder.
Goofs
[
]
Andrew Durbin agrees with Bill Hampton to collect his car at 21:00, but, on the night of Bill's murder, Durbin's airtight alibi is that he was eating out from 20:00 to 23:00. No explanation is given as to why he didn't go back to the garage to collect it (the sheriff mentions the following morning that the keys are still in the garage office so he couldn't have collected it earlier).
When Jessica was talking to Amos about faking the suicide & bringing up that fatal gunshot was inflicted on the right temple & that Bill Hampton is left-handed, & that Elliott Durbin had no way of knowing about, to implicate him, but the sole problem is that Elliott wanted Bill alive to divulge who was driving that night, so why frame Elliott for it by implicating him for it when he wanted the name of the driver of the night in question ?
Starring
[
]
Regular Cast
[
]
Angela Lansbury as Jessica Fletcher
Recurring Cast
[
]
Tom Bosley as Sheriff Amos Tupper
Guest Stars
[
]
John Glover as Andrew Durbin
Michael Lembeck as Arnie Wakeman
Kenneth McMillan as Coach Kevin Cauldwell
Caitlyn O'Heaney as Tara Sillman
John Bennett Perry as Judge Perry Sillman
Dack Rambo as Bill Hampton
Shelley Smith as Alison Hampton
Mark Voland as Dan Pulling
DVD Release
[
]
Episode Chronology
[
]
See Also
[
]
External Links
[
]