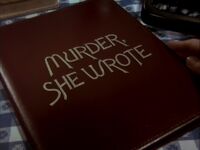 Murder, She Wrote: Season One
Murder, She Wrote: Season Two
Murder, She Wrote: Season Three
Murder, She Wrote: Season Four
Murder, She Wrote: Season Five
Murder, She Wrote: Season Six
Murder, She Wrote: Season Seven
Murder, She Wrote: Season Eight
Murder, She Wrote: Season Nine
Murder, She Wrote: Season Ten
Episodes:

"Roadkill"
"Wheel of Death"
Murder, She Wrote: Season Eleven
Murder, She Wrote: Season Twelve
Murder, She Wrote: TV Movies
The Law & Harry McGraw
Novels
Games
DVDs
Production Information
[
]
Production Number:
Aired:
Written By:
Directed By:
INSERT EPISODE SCREENHOT HERE
Created By:
Executive Producers:
Producer
Summary
[
]
The arrival of a traveling carnival in Cabot Cove coincides with a rash of burglaries and the murder of the troupe's owner.
Victim: Carl Dorner
Killer: Richard Binyon
Cause of Death: Stabbed with an antique dagger.
Motive: Carl was blackmailing him after discovering he was the antiques burglar.
Starring
[
]
Regular Cast
[
]
Angela Lansbury as Jessica Fletcher
Recurring Cast
[
]
Guest Stars
[
]
Thom Bierdz as Richard Binyon
Maria Canals-Barrera as Carmen (as Maria Canals)
Jimi Defilippis as Nicky Newton
Bradford Dillman as Carl Dorner
Lisa Lawrence as Lisa Farrel
Ron Masak as Sheriff Mort Metzger (as Ron Másak)
Judson Mills as Toby Grant
Cindy Pickett as Joanna Simms
Madlyn Rhue as Jean O'Neill
Charles Siebert as Don Simms
William Windom as Dr. Seth Hazlitt
Louis Herthum as Deputy Andy Broom
Richardson Morse as Man In Gray Suit
Jennifer Manasseri as Gwen
Kathryn Masak as Kathy (uncredited)
Where's the story that had Dorner knowing about Richard stealing from homes ?
It's highly unlikely that Richard would use the murder weapon to kill Dorner, knowing that it would be proven as to how he had gotten the weapon, don't you think ?
Then there's this: When Jessica had learned that a manicure set can look like a wallet, & had the magic show to include Richard & had Joanna to hand the so-called wallet to Jessica to show the tools can be used to pick locks, showing that Rich was the one robbing the local homes, THAT'S VERY NICE OF JESSICA TO SHOW TO THE TOWN AS TO WHO WAS ROBBING THEM.
Another thing is the fact that there was no story to explain Richard being at the scene of the stabbing of Dorner, especially with how I have established above that Dorner had no way of knowing who was behind the robberies.
Episode Chronology
[
]
See Also
[
]
External Links
[
]