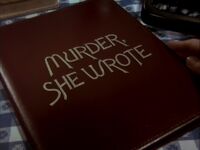 Murder, She Wrote: Season One
Murder, She Wrote: Season Two
Murder, She Wrote: Season Three
Episodes:

"Unfinished Business"
Murder, She Wrote: Season Four
Murder, She Wrote: Season Five
Murder, She Wrote: Season Six
Murder, She Wrote: Season Seven
Murder, She Wrote: Season Eight
Murder, She Wrote: Season Nine
Murder, She Wrote: Season Ten
Murder, She Wrote: Season Eleven
Murder, She Wrote: Season Twelve
Murder, She Wrote: TV Movies
The Law & Harry McGraw
Novels
Games
DVDs
Production Information
[
]
Production Number:
Aired: October 12th, 1986
Written By: Jackson Gillis
Directed By: Walter Grauman
INSERT EPISODE SCREENSHOT HERE
Created By: Peter S. Fisher, Richard Levison & William Link
Executive Producers: Peter S. Fischer
Producer: Robert F. O'Neill
Summary
[
]
A retired policeman decides to re-examine an old case and returns to the lakeside cabins where the murder occurred, gathering all the old suspects together.
Trivia
[
]
Victim: Gary Roberts
Killer: Lt. Barney Kale.
Cause of death: Shot with shotgun.
Motive: Roberts was blackmailing Kale with knowledge that he committed the unsolved murder of Lowell Dixon 10 years prior.
This episode is a reunion of sorts: When Happy Days ended in 1984, the spin-off of Happy Days was Joanie Loves Chachi, that lasted for two years, from March 23 1982 to to May 24 1983. Erin Moran who was in both Happy Days & Joanie Loves Chachi played Joanie Cunningham Arcola in both got reunited with her tv father, Tom Bosley. AKA Howard Cunningham, when his Amos Tupper & Lansbury's Jessica questioned her after the death of Gary Roberts, her husband in this episode.
Goofs
[
]
When the shotgun is found in the woods, the deputy character picks it up with one hand in a handkerchief, to protect fingerprint clues, but then puts his other bare hand right on the barrel.
As pointed out by my mom, why would Kale restart the investigation into a murder he'd committed? Wasn't he afraid he'd get caught?
How did Joey Cabrini know anything about Kale killing Lowell DIxon, he had to know about it in order to tell Gary Roberts when they were cellmates, wouldn't you think ?
Starring
[
]
Regular Cast
[
]
Angela Lansbury as Jessica Fletcher
Recurring Cast
[
]
Tom Bosley as Sheriff Amos Tupper
William Windom as Dr. Seth Hazlitt
Guest Stars
[
]
Lloyd Bockner as Dr. Terrance Mayhew
J.D. Cannon as Sheriff Phil McCoy
Don DeFore as Jake Sanford
Pat Hingle as Lt. Barney Kale
Hayley Mills as Cynthia Tate
Erin Morgan as Maggie Roberts
Erich Anderson as Gary Roberts
DVD Release
[
]
Episode Chronology
[
]
See Also
[
]
External Links
[
]