Jurassic World: Dominion Dominates Fandom Wikis - The Loop
Play Sound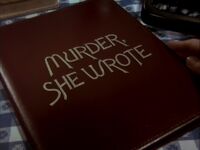 Murder, She Wrote: Season One
Murder, She Wrote: Season Two
Murder, She Wrote: Season Three
Murder, She Wrote: Season Four
Episodes:

"Trouble in Eden"
"Deadpan"
Murder, She Wrote: Season Five
Murder, She Wrote: Season Six
Murder, She Wrote: Season Seven
Murder, She Wrote: Season Eight
Murder, She Wrote: Season Nine
Murder, She Wrote: Season Ten
Murder, She Wrote: Season Eleven
Murder, She Wrote: Season Twelve
Murder, She Wrote: TV Movies
The Law & Harry McGraw
Novels
Games
DVDs
Production Information
[
]
Production Number:
Aired: November 22nd, 1987
Teleplay by: John D.F. Black & Paul Savage

Story by: John D.F. Black

Directed By: Nick Havinga
INSERT EPISODE SCREENSHOT HERE
Created By: Peter S. Fischer, Richard Levinson & William Link
Executive Producers: Peter S. Fischer
Producer: Robert F. O'Neill
Summary
[
]
To look into a small-town murder, Jessica poses as the sister of the slain woman.
Trivia
[
]
This is Joan Caulfield's last appearance.
Victim: Charlotte Welch
Killer: C.J. Dobbs
Cause of death: Stabbing
Motive: Threatened to call the police upon finding out Dobbs cheated her out of a valuable piece of land.
Goofs
[
]
There is a place called Eden, Oregon, but it's in the northwest corner of the state. Driving from Eugene instead of Portland, as Lewis suggests, would add two to three hours to the trip.
Sheriff Landry (Roy Thinnes) wears a shirt that has a special fixture sewn in over the left pocket that holds a badge without making holes in the shirt but he never has a badge on his shirt.
In the opening lunch scene between Jessica and Mary Rose, the letter they're passing between each other has no writing on it.
Only Mary Rose, knew that Charlotte was her sister, yes, others knew that Mary Rose was Charlotte's sister, but where's the story for Eddie Mackle to know where to look for Mary Rose ?
Starring
[
]
Regular Cast
[
]
Angela Lansbury as Jessica Fletcher
Recurring Cast
[
]
Guest Stars
[
]
MacDonald Carey as Dr. Gordon Lynch
Joan Caulfield as Mary Rose Welch
Thom Christopher as Reverend Wilfred Manchester
Tom Fitzsimmons as Lewis Framm
Betty Garrett as Martha Neilson
Rosanna Huffman as Dora Manchester
Tricia O'Neil as Lila Benson
Renata Scott as Charlotte Welch
Roy Thinnes as Sheriff Howard Landry
Mills Watson as Glen Roy Sitwell
Stuart Whitman as C.J. Dobbs
DVD Release
[
]
Murder, She Wrote: the Complete Fourth Season.
Episode Chronology
[
]
See Also
[
]
External Links
[
]