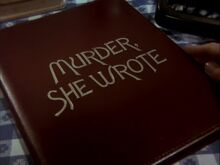 Murder, She Wrote: Season One
Murder, She Wrote: Season Two
Episodes:

"Trial by Error"
Murder, She Wrote: Season Three
Murder, She Wrote: Season Four
Murder, She Wrote: Season Five
Murder, She Wrote: Season Six
Murder, She Wrote: Season Seven
Murder, She Wrote: Season Eight
Murder, She Wrote: Season Nine
Murder, She Wrote: Season Ten
Murder, She Wrote: Season Eleven
Murder, She Wrote: Season Twelve
Murder, She Wrote: TV Movies
The Law & Harry McGraw
Novels
Games
DVDs
Production Information
[
]
Production Number:
Aired: January 12th, 1986
Teleplay by: Paul Savage

Story by: Scott Shepherd

Directed By: Seymour Robbie
INSERT EPISODE SCREENSHOT HERE
Created By: Peter S. Fischer, Richard Levinson & William Link
Executive Producers: Peter S. Fischer
Producer: Robert F. O'Neill
Summary
[
]
It's a bad day for the jurors when Jessica is the foreperson of the jury hearing the case of a man claiming self-defense in the death of an enraged husband.
Trivia
[
]
The plot is inspired by the film 12 Angry Men (1957).
Last acting performance of Tom Ewell.
First episode with two murders in which both of them were committed by two different people.
Victim(s): Stephanie Reynolds & Cliff Anderson.
Killer(s): Mark Lee Reynolds & Becky Anderson
Cause of death: Smothering with a pillow; blunt force trauma from fireplace poker.
Motive: To continue his affair with Becky and not divorce his wife, therefore keeping her money; self-defense.
Goofs
[
]
Basic EMT protocol is to never move a victim of trauma without first installing a cervical collar (neck brace). This is always done before placing victims on a backboard.
In one of the flashbacks, Becky was seen putting on her robe, & while doing that she heard the gun go off when Cliff & Mark struggled for the gun & so explain as to why have it shown that it never took place by playing up in another flashback that Becky used the poker on her husband, so how exactly are they both guilty when Mark had no knowledge that Cliff was going to show up, I kind of doubt that Becky would have called Mark at the hospital to show up to play up as to how the gun residue ended up on his left hand, given that was never played up.
Starring
[
]
Regular Cast
[
]
Angela Lansbury as Jessica Fletcher
Guest Stars
[
]
David Ackroyd as A.D.A.Tom Casselli
Tony Bill as Mark Lee Reynolds
Virginia Capers as Margo Webster
MacDonald Carey as Oscar Ramsey
Doran Clark as Becky Anderson
Jon Cypher as Max Flynn
Gene Evans as Otto Fry
Tom Ewell as Josh Corbin
Gary Frank as Lee Callahan
Arlene Golonka as Sally Conover
Alan Hale as Fenton Harris
Lenore Kasdorf as Ally Collins
Vicki Lawrence as Jackie MacKay
Allan Miller as Frank Lord
Brock Peters as Thornton Bentley
Richard Sanders as Gerald Richard
Gregory Walcott as Willie Patchecki
DVD Release
[
]
Episode Chronology
[
]
See Also
[
]
External Links
[
]