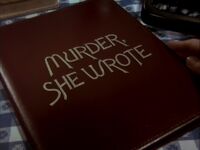 Murder, She Wrote: Season One
Murder, She Wrote: Season Two
Murder, She Wrote: Season Three
Murder, She Wrote: Season Four
Murder, She Wrote: Season Five
Murder, She Wrote: Season Six
Murder, She Wrote: Season Seven
Murder, She Wrote: Season Eight
Murder, She Wrote: Season Nine
Murder, She Wrote: Season Ten
Episodes:

"Time to Die"
"Roadkill"
Murder, She Wrote: Season Eleven
Murder, She Wrote: Season Twelve
Murder, She Wrote: TV Movies
The Law & Harry McGraw
Novels
Games
DVDs
Production Information
[
]
Production Number:
Aired:
Written By:
Directed By:
INSERT EPISODE SCREENHOT HERE
Created By:
Executive Producers:
Producer
Summary
[
]
Jessica's teen writing class has two promising students, Alida and Chris. But when Chris' loan-shark stepfather turns up dead after pursuing Alida and fleeing a hit-and-run, Chris is the prime suspect.
Victim: Frank Garcia
Killer: Mario Fernandez
Cause of Death: Gunshot
Motive: Frank was blackmailing him after he learned he was rigging his pigeon races to make some quick cash.
Starring
[
]
Regular Cast
[
]
Angela Lansbury as Jessica Fletcher
Recurring Cast
[
]
Guest Stars
[
]
Robert Beltran as Frank Garcia
Bridgid Coulter as Tammy Fisher
Marta DuBois as Maria Garcia (as Marta Dubois)
Billy Gallo as Chris Garcia (as William Gallo)
Gladise Jiminez as Alida Alvarez (as Gladys Jimenez)
Ronald G. Joseph as Joe Mancuso
Janet MacLachlan as Barbara Fisher (as Janet Mac Lachlan)
Rudy Ramos as Mario Fernandez
Stan Shaw as Det. Sgt. Vince Lofton
Gregg Thomsen as Manny Castillo
Rick Dano as Detective Boyd (as Richard Dano)
Episode Chronology
[
]
See Also
[
]
External Links
[
]