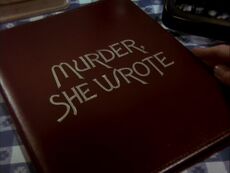 Murder, She Wrote: Season One
Murder, She Wrote: Season Two
Murder, She Wrote: Season Three
Murder, She Wrote: Season Four
Murder, She Wrote: Season Five
Murder, She Wrote: Season Six
Murder, She Wrote: Season Seven
Episodes:

"Thursday's Child"
Murder, She Wrote: Season Eight
Murder, She Wrote: Season Nine
Murder, She Wrote: Season Ten
Murder, She Wrote: Season Eleven
Murder, She Wrote: Season Twelve
Murder, She Wrote: TV Movies
The Law & Harry McGraw
Novels
Games
DVDs
Production Information
[
]
Production Number:
Aired: April 7th, 1991
Written By: Robert E. Swanson
Directed By: Anthony (Pullen) Shaw
INSERT EPISODE SCREENSHOT HERE
Created By: Peter S. Fischer and Richard Levinson & William Link
Executive Producers: Peter S. Fischer
Producers: Anthony Magro

Robert F. O'Neill

Robert E. Swanson

Robert Van Scoyk
Summary
[
]
Jessica is met by Nancy Landon, who claims that her late husband, Frank, was the father of Nancy's son Steve. While Jessica investigates this shocking claim, Nancy herself is arrested for the murder of contractor Ben Olston, whom Steve had a disagreement with, and Jessica takes the case to prove her innocence.
Trivia
[
]
S. Scott Bullock, who has a small role as a taxi driver, is better known as a voice actor, having done regular roles on shows such as Captain Planet and the Planeteers and Danny Phantom.
Victim: Ben Olston
Killer: Cynthia Olston
Cause of death: Gunshot
Motive: Was fed up with his various affairs, including his recent one with Dawn Bickford.
The only major goof that was in this episode was that with Steve Landon, with him knowing that it was a school & the buidling of the school would endanger the lives of children, is that Dawn Bickford, Ben Olston were a-okay in harming children in order for them to conspire to cover-up the endangerment of children & that they had no guilt or remorse of endangering children.
Starring
[
]
Regular Cast
[
]
Angela Lansbury as Jessica Fletcher
Guest Stars
[
]
John Anderson as Andrew Dixon
John Beck as Ben Olston
Lindsay Frost as Dawn Bickford
Alan Fudge as Councilman Axelrod
Richard Gilliland as Steve Landon
Paul Gleason as Lt. Barney Claymore
Vera Miles as Nancy Landon
Martin Milner as Clint Phelps
Jennifer Warren as Cynthia Olston
Co-Stars
[
]
Jim Boeke as Crocket
Fredric Cook as Aaronson
S. Scott Bullock as Taxi Driver
Steven Novak as Roy Temple
Elven Havard as Duty Patrolman
Miki Oikawa as Secretary (uncredited).
DVD Release
[
]
Episode Chronology
[
]
See Also
[
]
External Links
[
]