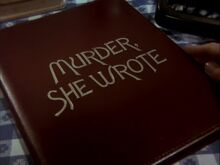 Murder, She Wrote: Season One
Murder, She Wrote: Season Two
Murder, She Wrote: Season Three
Murder, She Wrote: Season Four
Murder, She Wrote: Season Five
Episodes:

Murder, She Wrote: Season Six
Murder, She Wrote: Season Seven
Murder, She Wrote: Season Eight
Murder, She Wrote: Season Nine
Murder, She Wrote: Season Ten
Murder, She Wrote: Season Eleven
Murder, She Wrote: Season Twelve
Murder, She Wrote: TV Movies
The Law & Harry McGraw
Novels
Games
DVDs
Production Number:
Aired: May 7th, 1989
Written By: Donald Ross
Directed By: Seymour Robbie
INSERT EPISODE SCREENSHOT HERE
Created By: Peter S. Fischer, Richard Levinson & William Link
Executive Producers: Peter S. Fischer
Producer: Robert Van Scoyk
Jessica visits her nephew Johnny, recently recruited onto a Major League Baseball team, and then must solve the murder of a scheming news reporter.
As he did in several other "Murder, She Wrote" scripts, writer Donald Ross named several of the characters after jazz musicians. John Eaton is a pianist and jazz educator. Doc Evans was a traditional jazz cornetist from the 1930's until his death in 1977. Pete Briggs was the tuba player for Louis Armstrong's Hot Seven in 1927. Harry Dial was a drummer who also worked with Armstrong. Irving Randolph was a 1930's trumpeter who played with Cab Calloway. Lt. Caceres is named after 1940's baritone saxophonist Ernie Caceres. Kel Murray was a non-jazz bandleader who shared the 1935 "Let's Dance" broadcasts with Benny Goodman and Xavier Cugat. Mike Warlop is named after 1930's French jazz bandleader Michel Warlop. There is also an unseen but mentioned character named Flip Phillips, after the star tenor saxophonist from Woody Herman's First Herd in the mid-1940's.
The title refers to the umpire's announcement to the batter in American baseball when he has completed his time at the plate after having experienced the maximum number of strikes allowed before one is out.
Johnny Eaton is Jessica's other nephew, next to the oft seen Grady Fletcher.
Victim: Loretta Lee
Killer: Al Sidell
Cause of death: Head trauma due to hitting a table.
Motive: Anger over her planning to further her news career by revealing that player Charley Holcomb was actually bail jumper Freddy Masters and not caring about the repercussions that could cause the team.
Jessica says that Johnny went to Herbert Hoover School in Waterloo, Iowa. There is a Hoover School in Waterloo, but it was named for Lou Hoover, was a native of Waterloo.
Angela Lansbury as Jessica Fletcher
Todd Bryant as Johnny Eaton
Bernie Casey as Doc Evans
Tim Dunigan as Charley Holcomb / Freddy Masters
Vince Edwards as Harry Dial
Shea Farrell as Pete Briggs
Terri Garber as Loretta Lee
Anne Lockhart as Roz Briggs
Robert Mandan as Irving Randolph
Reni Santoni as Lt. Caceras
Paul Sorvino as Al Sidell
Beau Billingslea as Kel Murray
Rick Dean as Mike Warlop
David James Elliott as Young Officer
Ed Hooks as Bailman
Jake Jacobs as Avery Burns
Roxanne Reese as Nancy Murray
Harry Woolf as Fan
Hank Robinson as Umpire
Community content is available under
CC-BY-SA
unless otherwise noted.