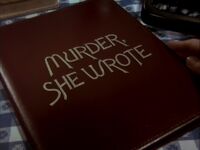 Murder, She Wrote: Season One
Murder, She Wrote: Season Two
Murder, She Wrote: Season Three
Murder, She Wrote: Season Four
Murder, She Wrote: Season Five
Murder, She Wrote: Season Six
Murder, She Wrote: Season Seven
Murder, She Wrote: Season Eight
Murder, She Wrote: Season Nine
Murder, She Wrote: Season Ten
Episodes:

"The Trouble with Seth"
"Roadkill"
Murder, She Wrote: Season Eleven
Murder, She Wrote: Season Twelve
Murder, She Wrote: TV Movies
The Law & Harry McGraw
Novels
Games
DVDs
Production Information
[
]
Production Number:
Aired:
Written By:
Directed By:
INSERT EPISODE SCREENHOT HERE
Created By:
Executive Producers:
Producer
Summary
[
]
Jessica searches for Seth when he suddenly disappears and fresh bloodstains in his office indicate foul play.
Trivia
[
]
One of the folders seen in Dr. Seth Hazlett's patient files was headed "D. Sharpless". Don Sharpless was the sound mixer for this and many other episodes in this series.
In Murder, She Wrote: The Trouble with Seth (1994), Kim Johnston Ulrich & Ben Masters play adversaries and years later they play a married couple on the soap opera, Passions (1999).
Paul Mantee plays a character 'Leo Fender'. Leo Fender was the name of the man who founded Fender Guitars and made the first mass produced solid body electric guitars.
Goofs: Leo Fender went by an alias in this episode, the alias, Ronald Olson, was only mentioned to Connie where she worked with Evan Rafferty, so when she heard the alias, no one knew that the alias was Leo Fender, so how would she know who had what name ?
When Will Rafferty was on somewhat of a date with Julia, the C initial stood for Cardozo, in which Will had brought up was his mother's maiden name, the B. initial that Julia had brought up stood for Barton, Stanley Barton was the alias that Evan Rafferty was using in 1974, Will had brought up that Evan slash Stanley was his dad, so that means that Julia's mom remarried & her new name was Barton, Will's dad, so Will was somewhat on a date with his half-sister, wasn't he ?
Victim: Leo Fender
Killer: Connie Anderson
Cause of Death: Stabbed in the back with a letter opener
Motive: To protect Evan Rafferty, after Leo tried to kill him to prevent being exposed.
Starring
[
]
Regular Cast
[
]
Angela Lansbury as Jessica Fletcher
Recurring Cast
[
]
Guest Stars
[
]
Katherine Cannon as Marion Taylor
Ann Hearn as Connie Anderson
Paul Mantee as Leo David Fender / Ronald Olson / Jack Landis
Ron Masak as Sheriff Mort Metzger (as Ron Másak)
Ben Masters as Evan Rafferty / Stanley Barton
Ethan Embry as Jimmy Taylor (as Ethan Randall)
Kim Johnston Ulrich as Julia Harris
Jay Underwood as Will Rafferty
William Windom as Dr. Seth Hazlitt
Louis Herthum as Deputy Andy Broom
Steve Nevil as Neal Kraus
Tim Mclaughlin as Dave Archer (as Tim McLaughlin)
Tony Fasce as Dan Castino (as Anthony Fascé)
Bob Harks as Fisherman (uncredited)
Bob Pepper as Fisherman (uncredited)
With no goofs for this episode. I'm adding one. Connie that one brought up online birdwatching, all she heard was the name of the alias that Leo Fender was using, there is no story to explain how she would know that the alias was being used by Leo Fender, now did she ?