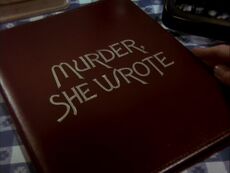 Murder, She Wrote: Season One
Murder, She Wrote: Season Two
Murder, She Wrote: Season Three
Murder, She Wrote: Season Four
Murder, She Wrote: Season Five
Murder, She Wrote: Season Six
Murder, She Wrote: Season Seven
Episodes:

"The Taxman Cometh"
Murder, She Wrote: Season Eight
Murder, She Wrote: Season Nine
Murder, She Wrote: Season Ten
Murder, She Wrote: Season Eleven
Murder, She Wrote: Season Twelve
Murder, She Wrote: TV Movies
The Law & Harry McGraw
Novels
Games
DVDs
Production Information
[
]
Production Number:
Aired: February 17th, 1991
Written By: Donald Ross
Directed By: Anthony (Pullen) Shaw
INSERT EPISODE SCREENSHOT HERE
Created By: Peter S. Fischer

and Richard Levinson

& William Link

Executive Producers: Peter S. Fischer
Producers: Anthony Magro

Robert F. O'Neill

Robert E. Swanson

Robert Van Scoyk
Summary
[
]
While on a book tour in Minnesota, Jessica visits her old college friend, Edna Hayes, whose store, Miss Edna's Pies, is being investigated by the IRS. When Edna's ex-husband, Nolan, is murdered, she becomes the prime suspect, but the truth involves a clever embezzling scheme and a mysterious employee.
Trivia
[
]
This is the second episode in which Gregg Henry plays a killer. He also played one in Broadway Malady.
The late Max Wright is probably best known for his role as Willie Tanner on the sitcom ALF.
Victim(s): Nolan Hayes & J.K. Davern
Killer: Richard Wellstood
Cause of death: Gunshot
Motive: He discovered his and J.K.'s plan to use fake employee "Spencer Prinz" to embezzle money from the company; to use him as a fall guy.
Goof: I can see the motive, given with Jessica in the office when Edna brought up you cut a deal, so I can see that, but with her not knowing where he was killed, how could she have been there to do it ?
Starring
[
]
Regular Cast
[
]
Angela Lansbury as Jessica Fletcher
Guest Stars
[
]
Robin Dearden as Gail Manning
Gregg Henry as Richard Wellstood
Macon McCalman as Nolan Hayes
Kent McCord as George Harris
Phyllis Newman as Edna Hayes
Roy Thinnes as J. K. Davern
Fred Willard as Lt. Phillips
Max Wright as Gerald Yelverton
Co-Stars
[
]
Joan Crosby as Maid
Dominic Oliver as Pizza Man
Greg Allan Martin as Officer #1
John Christopher as Officer #2
Annie O'Donnell as Mrs. Leeman
Larry Eisenberg as Clerk
DVD Release
[
]
Episode Chronology
[
]
See Also
[
]
External Links
[
]