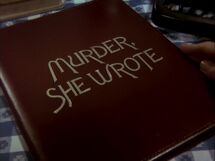 Murder, She Wrote: Season One
Murder, She Wrote: Season Two
Murder, She Wrote: Season Three
Murder, She Wrote: Season Four
Murder, She Wrote: Season Five
Murder, She Wrote: Season Six
Murder, She Wrote: Season Seven
Murder, She Wrote: Season Eight
Murder, She Wrote: Season Nine
Episodes:

"The Mole"
"The Sound of Murder"
"Dead Eye"
Murder, She Wrote: Season Ten
Murder, She Wrote: Season Eleven
Murder, She Wrote: Season Twelve
Murder, She Wrote: TV Movies
The Law & Harry McGraw
Novels
Games
DVDs
Production Information
[
]
Production Number:
Aired:
Written By:
Directed By:
INSERT EPISODE SCREENHOT HERE
Created By:
Executive Producers:
Producer
Summary
[
]
Jessica's friend Holly uses her contacts to help Jessica land a session to tape her first novel The Corpse Danced at Midnight for the blind, but what starts out as a simple recording session ends up turning into a murder investigation when a ruthless music producer is killed.
Trivia
[
]
This is the second time Jessica is shown recording books for the blind. The first time was in Murder, She Wrote: Murder, She Spoke (1987).
Richard Paul, who played Cabot Cove Mayor Sam Booth in several episodes, regularly donated his time to recording books for the blind.
This was the fourth time Richard Beymer has guest-starred. He guest-starred a total of six times.
The title is a play on word from the movie and musical 'The sound of Music'.
Victim: Freddie Major
Killer: Charles George Drexler
Cause of Death: Gunshot
Motive: He'd lose a large sum of money in the stock market if Major successfully sold the company.
Goofs
[
]
Jessica went to a lot of trouble to find the file from the private detective's office, agrees to meet the cop for lunch, leaves the apartment with Holly, but without the file.
Freddie may have put the notes indicating Charles George Drexler, CGD, into the electronic piano, but, Jessica fails to prove that Drexler was in the room with Major at the time of Freddie's murder.
Also, who keeps the weapon after using it, given that Jessica can't prove that Drexler was in the room with Freddie at the time of his death, given that they can't prove he had the weapon at the time he set off the squib that he had planted & triggered it ?
Starring
[
]
Regular Cast
[
]
Angela Lansbury as Jessica Fletcher
Guest Stars
[
]
Richard Beymer as Rick Lefko
Edd Byrnes as Freddie Major
Mary Beth Evans as Julie Knight
Robert Knepper as Charles George Drexler
Miles O'Keeffe as Paul Atkins
Alexia Robinson as Holly Chase
Michael Tolan as Lt. Alan Terwilliger
Co-Stars
[
]
Johnathan Goldsmith as Mitch Randall
Kevin Hicks as Willi Piper
Kenny Long as Video Director
Danny Woodburn as Giorgi Pappavasilopoulos
Meadow Williams as Michelle
Lori Hart as "Mirabilis Duo" Member #1
Jeffrey Steele as "Mirabilis Duo" Member #2
Episode Chronology
[
]
See Also
[
]
External Links
[
]