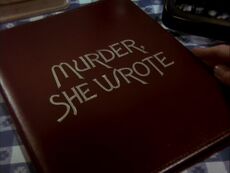 Murder, She Wrote: Season One
Murder, She Wrote: Season Two
Murder, She Wrote: Season Three
Murder, She Wrote: Season Four
Murder, She Wrote: Season Five
Murder, She Wrote: Season Six
Murder, She Wrote: Season Seven
Episodes:

"The Skinny According to Nick Cullhane"
Murder, She Wrote: Season Eight
Murder, She Wrote: Season Nine
Murder, She Wrote: Season Ten
Murder, She Wrote: Season Eleven
Murder, She Wrote: Season Twelve
Murder, She Wrote: TV Movies
The Law & Harry McGraw
Novels
Games
DVDs
Production Information
[
]
Production Number:
Aired: May 12th, 1991
Written By: Tom Sawyer
Directed By: Walter Grauman
INSERT EPISODE SCREENSHOT HERE
Created By: Peter S. Fischer

and Richard Levinson

& William Link

Executive Producers: Peter S. Fischer
Producers: Anthony Magro

Robert F. O'Neill

Robert E. Swanson

Robert Van Scoyk
Summary
[
]
Nick Culhane, a former cop turned writer, sends his latest manuscript to Jessica Fletcher, who finds herself hounded by representatives of brewery heir Ogden Schemesser, since the manuscript too closely resembles his kidnapping. When Nick goes to Cabot Cove to retrieve it, loan shark Vikki Palumbo sends Harry McGraw to retrieve him; Nick is soon found dead and Harry is found near his body, leading Jessica to try and clear her friend's name and find the real killer and their motive.
Trivia
[
]
This was originally intended as the series finale, hence Harry's "well, that's all she wrote" line, and Jessica, Harry & Mort appearing to glance at the camera in the last shot. However, Angela Lansbury decided to continue doing the show, and it ran for 5 more seasons.
This is the only episode in which Harry & Mort interact.
Victim: Nick Culhane
Killer: Phil Mannix
Cause of death: Gunshot
Motive: Nick's manuscript was a recount of when a drunken Phil told him about how he, Ogden Schmesser & Gordon Forbes faked Ogden's kidnapping, which would implicate them and cause Phil to lose his cushy job with Forbes.
Starring
[
]
Regular Cast
[
]
Angela Lansbury as Jessica Fletcher
Recurring Cast
[
]
Ron Masak as Sheriff Morton Metzger
Jerry Orbach as Detective Harry McGraw
Will Nye as Deputy Floyd
Guest Stars
[
]
Leslie Easterbrook as Vikki Palumbo
Pat Harrington as Nick Culhane
Alex Hyde-White as Ogden "Oggie" Schmesser
Tony Lo Bianco as Phil Mannix
Michael McGrady as Richard
Jameson Parker as Gordon Forbes
Co-Stars
[
]
Tricia Long as Florence
Postmaster General Anthony Frank as The Mailman
DVD Release
[
]
Episode Chronology
[
]
See Also
[
]
External Links
[
]