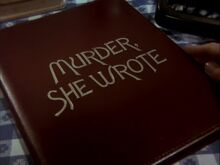 Murder, She Wrote: Season One
Murder, She Wrote: Season Two
Murder, She Wrote: Season Three
Murder, She Wrote: Season Four
Murder, She Wrote: Season Five
Episodes:

Murder, She Wrote: Season Six
Murder, She Wrote: Season Seven
Murder, She Wrote: Season Eight
Murder, She Wrote: Season Nine
Murder, She Wrote: Season Ten
Murder, She Wrote: Season Eleven
Murder, She Wrote: Season Twelve
Murder, She Wrote: TV Movies
The Law & Harry McGraw
Novels
Games
DVDs
Production Number:
Aired: April 9th, 1989
Written By: Robert Van Scoyk
Directed By: John Llewellyn Moxey
INSERT EPISODE SCREENSHOT HERE
Created By: Peter S. Fischer, Richard Levinson & William Link
Executive Producers: Peter S. Fischer & Anthony Magro
Producer: Robert Van Scoyk
A former student of Jessica, has returned to Cabot Cove, with a new book she has written that seems to trash everyone's lives , that soon leads to murder.
The late Rosanna Huffman, who plays Miriam, was the wife of series co-creator Richard Levinson.
This episode opens in the local beauty parlor, just like If It's Thursday, It Must Be Beverly, which first introduced Eve and the others.
Victim: Miriam Harwood
Killer: Ellis Holgate
Cause of death: Bludgeoned with a frying pan.
Motive: Was in love with Miriam and assumed, via their characters in Sybil Reed's book, that she was too and couldn't face reality when she rejected him.
Angela Lansbury as Jessica Fletcher
Julie Adams as Eve Simpson
Gloria DeHaven as Phyllis Grant
Kathryn Grayson as Ideal Molloy
Ron Masak as Sheriff Mort Metzger
Ruth Roman as Loretta Spiegel
William Windom as Dr. Seth Hazlitt
Luke Askew as Noah Harwood
Page Hannah as Sybil Reed
Rosanna Huffman as Miriam Harwood
Graham Jarvis as Ellis Holgate
Frederick Coffin as Tim Mulligan
Joan Roberts as Janis Paisley
Stuart Nisbet as George Greer
Sally Klein as Coreen
Fran Ryan as Rose
Community content is available under
CC-BY-SA
unless otherwise noted.