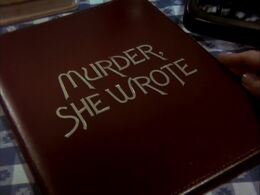 Murder, She Wrote: Season One
Murder, She Wrote: Season Two
Murder, She Wrote: Season Three
Murder, She Wrote: Season Four
Murder, She Wrote: Season Five
Murder, She Wrote: Season Six
Episodes:

"The Sicilian Encounter"
Murder, She Wrote: Season Seven
Murder, She Wrote: Season Eight
Murder, She Wrote: Season Nine
Murder, She Wrote: Season Ten
Murder, She Wrote: Season Eleven
Murder, She Wrote: Season Twelve
Murder, She Wrote: TV Movies
The Law & Harry McGraw
Novels
Games
DVDs
Production Information
[
]
Production Number:
Aired: May 20th, 1990
Written By: Robert E. Swanson
Directed By: Kevin G. Cremin
INSERT EPISODE SCREENSHOT HERE
Created By: Peter S. Fischer and Richard Levinson & William Link
Executive Producers: Peter S. Fischer
Producers: Robert E. Swanson & Robert Van Scoyk
Summary
[
]
Jessica retrieves a tape in the mail from her old friend, Michael Haggerty, who relates his latest case, involving Englishman Peter Baines wanting to marry Mafia widow Claudia Carboni, while MI6 competes with the CIA & Mafia to retrieve a black book and lots of money, with plenty of surprises and double dealing along the way.
Trivia
[
]
Ninth of 14 "bookend" episodes in which Jessica only appears at the beginning to introduce them; the others are Murder in a Minor Key (Episode), The Grand Old Lady, Jack & Bill, Class Act, Goodbye Charlie, Murder - According to Maggie, O'Malley's Luck, & Always a Thief. Also, second of these episodes to feature a recurring character instead of a new one; the first was Always a Thief with Dennis Stanton.
Third appearance for the late George DiCenzo. He also appeared in We're Off to Kill the Wizard and The Perfect Foil, playing a murder victim in both.
Peter Baines is a relative of Harold Baines, the culprit in Appointment in Athens, the first episode of the season, and even played by the same actor. Michael notes that Harold is still in jail, thanks to him and "a writer friend."
Victim(s): Llewellyn Morganstern & "Gino Carboni."
Killer(s): Mario Carboni & Antonio Carboni
Cause of death: Throat slit; stabbed in chest
Motive: To prevent him from informing MI6 about the book; he was impersonating one of their relatives.
Starring
[
]
Regular Cast
[
]
Angela Lansbury as Jessica Fletcher
Recurring Cast
[
]
Len Cariou as MI6 Agent Michael Haggerty
Guest Stars
[
]
Vincent Baggetta as Antonio (DeRenaldi)
Joseph Cali as Gino Carboni
George DiCenzo as Mario (Guzman)
Deidre Hall as Claudia Carboni
Robert Miranda as Gino Carboni
Ian Ogilvy as Peter Baines
John Standing as Chief Daniel Trent
Co-Stars
[
]
Ralph Manza as Father Anselmo
Daniel Trent as Barton (Johnstone)
Ralph DeLia as Pilot
Anthony DeFonte as Tailor
Stephen Poletti as Bank Clerk
Marianne Bergonzi as Woman
Gina Minervini as Maid
Jovin Montanara as Bellman
James Garrett as Llewellyn (Morganstern)
Steve Natoli as Waiter
Daniel Anderson as Korshack
DVD Release
[
]
Episode Chronology
[
]
See Also
[
]
External Links
[
]