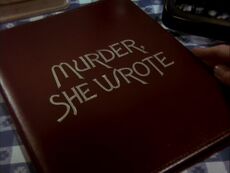 Murder, She Wrote: Season One
Murder, She Wrote: Season Two
Murder, She Wrote: Season Three
Murder, She Wrote: Season Four
Murder, She Wrote: Season Five
Murder, She Wrote: Season Six
Murder, She Wrote: Season Seven
Episodes:

"The Return of Preston Giles"
Murder, She Wrote: Season Eight
Murder, She Wrote: Season Nine
Murder, She Wrote: Season Ten
Murder, She Wrote: Season Eleven
Murder, She Wrote: Season Twelve
Murder, She Wrote: TV Movies
The Law & Harry McGraw
Novels
Games
DVDs
Production Information
Edit
Production Number:
Aired:
USA 18 November 1990
Netherlands 11 May 1992     
Germany 22 September 1993
Written By:
Tom Sawyer
Directed By:
Walter Grauman
INSERT EPISODE SCREENHOT HERE
Created By:
Peter S. Fischer
Richard Levinson
William Link
Executive Producers:
Peter S. Fischer
Producer
Anthony Magro
Robert F. O'Neill
Robert E. Swanson
Robert Van Scoyk
Years after Jessica Fletcher's first case, Preston Giles is released from prison and is placed on parole. Within the first twenty-four hours of his release, a murder arises and all fingers point to Preston. Jessica has to find out who the real murderer before her first murderer and former love is tried for a murder he may or may not have committed.
The character Preston Giles appeared in the original pilot.
The final screen appearance of Arthur Hill.
The trivia items below may give away important plot points.
This particular story is unusual for this series, as Jessica does not actually solve the mystery like she usually does. Preston Giles is clever enough to tape record the murderer's confession of the murder of the crooked accountant. Preston's own murder is then subsequently recorded.
Millie (played by Lois Chiles) is at odds with Linette, her husband's mistress. In the movie Death on the Nile (1978), Chiles co-starred with Angela Lansbury and played a murder victim named Linette. Here, Chiles' character is the murderer.
Regular Cast
Edit
Angela Lansbury as Jessica Fletcher
Recurring Cast
Edit
Arthur Hill as Preston Giles
Guest Stars
Edit
Lois Chiles as Millie Stafford
George Coe as Martin Bergman
Arlene Golonka as Gloria Winslow
Michael McKean - best known for his role in the 1985 movie "CLUE!" as Mr. Green - as Ross McKay
Todd Susman as Sergeant Spencer Slocum
Brynn Thayer as Linette McKay
Gordon Thomson as Kendall Stafford
Co-Stars
Edit
Regina Leeds as Dorothy Torrez
Kriss Turner as Secretary
Steven Connor as Mr. Chester Phelps
Michael Fairman as Cabby
DVD Release
Edit
Episode Chronology
Edit
External Links
Edit
Community content is available under
CC-BY-SA
unless otherwise noted.