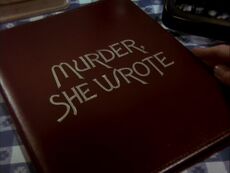 Murder, She Wrote: Season One
Murder, She Wrote: Season Two
Murder, She Wrote: Season Three
Murder, She Wrote: Season Four
Murder, She Wrote: Season Five
Murder, She Wrote: Season Six
Murder, She Wrote: Season Seven
Episodes:

"The Prodigal Father"
Murder, She Wrote: Season Eight
Murder, She Wrote: Season Nine
Murder, She Wrote: Season Ten
Murder, She Wrote: Season Eleven
Murder, She Wrote: Season Twelve
Murder, She Wrote: TV Movies
The Law & Harry McGraw
Novels
Games
DVDs
Production Information
[
]
Production Number:
Aired: March 10th, 1991
Written By: Maryann Kasica & Michael Scheff
Directed By: Anthony (Pullen) Shaw
INSERT EPISODE SCREENSHOT HERE
Created By: Peter S. Fischer

and Richard Levinson

& William Link

Executive Producers: Peter S. Fischer
Producers: Anthony Magro

Robert F. O'Neill

Robert E. Swanson

Robert Van Scoyk
Summary
[
]
In Cabot Cove, Ned Jenks returns after nearly 20 years, after having been thought dead, to reconnect with his daughter, Bonnie and her daughter Sally. However, due to a bank robbery he committed years ago, many denizens are not happy to see him, including Bonnie's husband, Dave. After Ned is found murdered, Dave seems to be the likely culprit, until Jessica finds there was more to the robbery than originally thought.
Trivia
[
]
Victim: Ned Jenks
Killer: Elton Summers
Cause of death: Strangled with electrical wire.
Motive: Jenks was threatening to expose how Elton helped him rob the bank, which helped get Elton his job as new bank president.
Starring
[
]
Regular Cast
[
]
Angela Lansbury as Jessica Fletcher
Recurring Cast
[
]
Ron Masak as Sheriff Morton Metzger
Richard Paul as Mayor Samuel Booth
Louise Nye as Deputy Floyd
Guest Stars
[
]
Claudia Christian as Bonnie Jenks Hastings
Don Galloway as Elton Summers
Robert Lansing as Herb Walsh
Kathleen Nolan as Maxine Malloy
Andrew Prine as Gil Blocker
Donnelly Rhodes as Ned Jenks
Abe Vigoda as George
Larry Wilcox as Dave Hastings
Co-Stars
[
]
Mark Roberts as Dr. Lyle Rush
Robin Gordon as Linda
Mindy Ann Martin as Sally Hastings
Sarah Simmons as Woman
Gary Hollis as Man
DVD Release
[
]
Episode Chronology
[
]
See Also
[
]
External Links
[
]