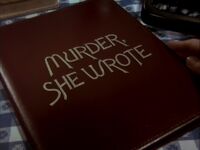 Murder, She Wrote: Season One
Murder, She Wrote: Season Two
Murder, She Wrote: Season Three
Murder, She Wrote: Season Four
Murder, She Wrote: Season Five
Murder, She Wrote: Season Six
Murder, She Wrote: Season Seven
Murder, She Wrote: Season Eight
Murder, She Wrote: Season Nine
Murder, She Wrote: Season Ten
Episodes:

"The Phantom Killer"
"Roadkill"
Murder, She Wrote: Season Eleven
Murder, She Wrote: Season Twelve
Murder, She Wrote: TV Movies
The Law & Harry McGraw
Novels
Games
DVDs
Production Information
[
]
Production Number:
Aired:
Written By:
Directed By:
INSERT EPISODE SCREENHOT HERE
Created By:
Executive Producers:
Producer
Summary
[
]
Jessica comes to the aid of a promising young reporter when he is suspected of murdering a rival magazine's unscrupulous publisher.
Victim: Harrison Kane
Killer: Kathryn Scofield
Cause of Death: Electrocution via hairdryer in his bathtub.
Motive: Overheard him making a pass at Abby Peters and realized what a womanizer he really was.
Kathryn's prints may have been all over the magazine, but, with the mailing label being addressed to Hans Dietrich, his prints are on it as well, so with his prints on the magazine, given the mailing label being addressed to him, his prints would have smudged Kathryn's prints as well, & I kind of doubt that partial prints can be traced back to her because then they would have to arrest Hans because he too would have been an accessory as well, because she was under his employ as well. Don't you think?
Especially, given that he may not have known that Kathryn was the killer, but, with her under his employ, he too would go down for harboring a murderer to stay in his employ.
Starring
[
]
Regular Cast
[
]
Angela Lansbury as Jessica Fletcher
Recurring Cast
[
]
Guest Stars
[
]
Vanessa Angel as Kathryn Scofield
Christian Bocher as Dave Wolski
Herb Edelman as NYPD Lieutenant Artie Gelber (as Herbert Edelman)
Janet Julian as Ellen Harper
David Kriegel as Ben Forman
Jack Laufer as Carter Drummond
Reiner Schöne as Hans Dietrich (as Reiner Schoene)
Alan Thicke as Harrison M. Kane
Scott Valentine as Dean Richards
Emily Warfield as Abby Peters
Leonard Lightfoot as Detective Henderson
Mark Barriere as Waiter
Steven Martini as (uncredited)
Episode Chronology
[
]
See Also
[
]
External Links
[
]