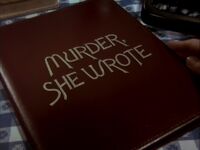 Murder, She Wrote: Season One
Murder, She Wrote: Season Two
Murder, She Wrote: Season Three
Murder, She Wrote: Season Four
Murder, She Wrote: Season Five
Murder, She Wrote: Season Six
Murder, She Wrote: Season Seven
Murder, She Wrote: Season Eight
Murder, She Wrote: Season Nine
Murder, She Wrote: Season Ten
Murder, She Wrote: Season Eleven
Episodes:

"The Murder Channel"
Murder, She Wrote: Season Twelve
Murder, She Wrote: TV Movies
The Law & Harry McGraw
Novels
Games
DVDs
Production Information
[
]
Production Number:
Aired:
Written By:
Directed By:
INSERT EPISODE SCREENHOT HERE
Created By:
Executive Producers:
Producer
Starring
[
]
Regular Cast: Angela Lansbury (Jessica Fletcher)
[
]
Guest Law Enforcers: John Capodice ( Lieutenant Giordano ) James Kiriyama-Lem ( Medical Examiner)
Guest Cast: Katherine Cressida (Darlene Farber); Dan Ferro (Roy Phipps);
[
]
Betty Freeman (1st committee woman); Charles Hallahan (Barry Noble); Gary Harshberger (Bob MacKenzie: Vincent Howard (College Professor); Heidi Kling (Kitty Colfax); Aaron Lustig (Augie Blumbacher); Stephen Quadros ( Alex Dorsey); Perrey Reeves ( Susan Constable) Doris Roberts ( Mrs. Leah Colfax); Jessica Walter Gwen Noble); Don Yesso (Leo Kositchek).
Motive: The wrong party ended up hearing that one of her employees was a part of a robbery of her place of business when she had gotten a call from an overseas diamond smuggler.
Goofs: When they had found smudges on Leah's apartment carpeting ending up being olive oil. Her daughter had just bought groceries, one of them could have been a bottle of olive oil that had fallen & broke in order for the stains to be there, remember, Augie's shoe prints weren't shown when they had found the smudges, so with Augie's footprints not found in the smudges, they can't prove he fired the deadly shots into Gwen, now can they?

Victim: Gwen Noble
Killer: Augie Grumbacher
Cause of Death: Gunshot
Motive: Gwen Noble found out that Augie Grumbacher stole an uncut diamond was going to cut it and sell the cut gems to a black market dealer for millions of dollars.
Episode Chronology
[
]
See Also
[
]
External Links
[
]