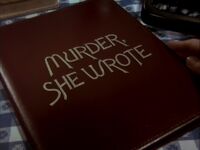 Murder, She Wrote: Season One
Murder, She Wrote: Season Two
Murder, She Wrote: Season Three
Murder, She Wrote: Season Four
Murder, She Wrote: Season Five
Murder, She Wrote: Season Six
Murder, She Wrote: Season Seven
Murder, She Wrote: Season Eight
Murder, She Wrote: Season Nine
Murder, She Wrote: Season Ten
Episodes:

"The Legacy of Borbey House"
"Roadkill"
Murder, She Wrote: Season Eleven
Murder, She Wrote: Season Twelve
Murder, She Wrote: TV Movies
The Law & Harry McGraw
Novels
Games
DVDs
Production Information
[
]
Production Number:
Aired:
Written By:
Directed By:
INSERT EPISODE SCREENHOT HERE
Created By:
Executive Producers:
Producer
Summary
[
]
While restoring her house in Cabot Cove, Jessica worries that her contractor is preoccupied by the remodeling of another house until the project is put on hold when the client is found murdered.
Victim(s): Laurel Perrin (happened 18 months prior) and Lawrence Baker
Killer: Charles Weatherly
Cause of Death: Bludgeoned with a hammer; stabbed in the chest with a wooden stake.
Motive: Angry after she changed her mind and decided to break off their engagement; to stop the renovations, which would have led to Laurel's body being discovered.
Goofs
[
]
Borbey is not a Hungarian word. The noun baker, as in "one who bakes," is pek in Hungarian.
If Laurel Perrin's body had truly been walled up for 18 months, somebody (especially the previous homeowners) would have eventually noticed the smell of a decomposing body. Drywall is not sufficient to hide that kind of odor.
Lawrence Baker has an aversion to sunlight & yet he had no problem walking in sunlight for when he was at Philip's place of work when he encountered Jessica & he didn't have sunglasses did he, that anyone male or female would take off when coming into a place of business, now wouldn't they ?
The East German heard Sorenson & Baker fighting, he was the only one who heard the fight, was it ever proven who else had heard the fight besides the East German ?
Where Laurel's body was found, showed that it was apart of the house that Lawrence wanted removed, so with it being a part of the house would have made it a bearing wall, because Charles had boarded Laurel's body up in it, so you tell me as to how that didn't make it a bearing wall ?
Starring
[
]
Regular Cast
[
]
Angela Lansbury as Jessica Fletcher

Recurring Cast
[
]
Guest Stars
[
]
David Birney as Lawrence Baker
Roy Dotrice as Dr. Howard Sorenson
Richard Gilliland as Charles Weatherly
Gary Hershberger as Dave Perrin
Judith Jones as Molly Holt
Ron Masak as Sheriff Mort Metzger (as Ron Másak)
Christopher Neame as Peter Jatich
Lawrence Pressman as Philip Holt
Madlyn Rhue as Jean O'Neill
William Windom as Dr. Seth Hazlitt
Louis Herthum as Deputy Andy Broom
Barbara Townsend as Mrs. Higgins
Steve Jackson as Jim Milio
Donnie Jeffcoat as Teenage Boy
Susan T. Collins as Teenage Girl (as Susan Christy)
Richard Jamison as Delivery Man
Episode Chronology
[
]
See Also
[
]
External Links
[
]