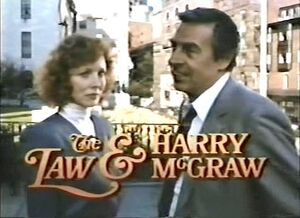 The Law & Harry McGraw
Original Network: CBS
No. of Seasons: 1
No. of Episodes: 16
Production Line: 628##
Originally Aired: September 27, 1987 - February 10, 1988
Production Credits
Created By:

Peter S. Fischer


Executive Producer:

Peter S. Fischer


Producer:

Tom Sawyer



Chronology
Related Shows: Murder, She Wrote

The Law & Harry McGraw is a spin-off show from the long running mystery series, Murder, She Wrote. The show featured the character of Harry McGraw, played by Jerry Orbach, who had appeared in a number of Murder, She Wrote episodes prior to this series and would appear again on Murder, She Wrote after the cancellation of The Law & Harry McGraw
History
[
]
Premise
[
]
The Character of Harry McGraw was created by Peter S. Fischer, he was first seen in "Tough Guys Don't Die" an episode from the first season of Murder, She Wrote. Harry was a down on his luck Private Investigator. He struck a friendship with Mystery Novelist Jessica Fletcher while investigating the murder of his partner. The Character appeared twice more in an episode in the second season and again in the third season. Harry was so popular that CBS commissioned a spin-off series featuring this character. The series was to follow the numerous cases that Harry would investigate. Peter S Fischer created the series and took on a role of Executive Producer.
Cancellation
[
]
The series premiered on the CBS network on September 27, 1987 with a Two-Hour Pilot Movie. However, despite a small fan following the shows ratings were not what CBS were expecting, and as such cancelled the series in early 1988. The Character of Harry McGraw would however go on to re-appear on Murder, She Wrote three more times.
Summary
[
]
The Character of Harry McGraw had been fairly well developed in three episodes of Murder, She wrote prior to the start of this series. The spirit of his character was continued in this series, he was usually strapped for cash and driving a wrecked car. He often used his Niece EJ as his receptionist and research assisstant.
In the series Harry's primary client was Ellie Maginnis, who was a criminal lawyer who often needed harry services to assist her cases. Her law office was just across the hall from Harrys. The two first met in the two hour pilot movie "Dead Men Don't Make Phone Calls", in which Ellie hired Harry to look into a Murder case in which Ellie was defending the accused. Ellie would however give up her private practice and join the District Attorneys office under Tyler Chase, she would still however require Harry's services to tie up some loose ends in her cases.
Starring
[
]
Regular Cast
[
]
Barbara Babcock

as

Ellie Maginnis

Shea Farrell

as

Steve Lacey

Juliana Donald

as

E.J. Brunson

Peter Haskell

as

Deputy DA Tyler Chase

Marty Davis

as

Cookie

Earl Boen

as

Howard
Notable Guest Stars
[
]
Episodes
[
]
Picture
Episode Name
Episode Number
Production Code
Original Airdate
Dead Men Don't Make Phone Calls
1
62811
September 27, 1987
Harry McGraw, the seedy, abrasive, loud, and messy private detective based in Boston, has just opened shop across the hall from criminal attorney Ellie Maginnis, who hires McGraw to look into a publishing partner's death.
Murder by a Landslide
2
62801
October 6, 1987
E.J.'s roommate, who was also employed as a campaign worker, is murdered. Harry suspects a cover-up involving the rich candidate, whom supposedly slept with the roommate.
Mr. Chapman, I Presume
3
62806
October 13, 1987
Based on a tip from Walter Chapman, Special Agent Eckstein launches a raid to recover stolen plutonium that is about to be shipped out of the country.
The Fallen Arrow
4
62804
October 20, 1987
McGraw sees Ellie become personally involved with a client, a gigolo she is defending who is charged with killing his rich wife.
Rappaport is Back in Town
5
62805
October 27, 1987
While Harry plays poker with a well to do restaurant owner and renowned card player, the man's cheating wife is murdered.
She's Not Wild About Harry
6
62807
November 3, 1987
Harry becomes a babysitter for a bookie's granddaughter, while the man is off getting involved with counterfeiting, bogus franchising, and death.
Angela's Secret
7
62808
November 10, 1987
Harry is hired by the wife of a mob boss to find her missing brother, only now Harry gets tied up in rough business, including the killing of an enforcer.
Solve It Again, Harry
8
62809
November 17, 1987
Harry gets himself shot and it makes great changes in his life. He's now neat, polite, and organized. Unfortunately, the wound also has erased his memory completely of the case he's working on.
State of the Art
9
62810
November 24, 1987
An old ex-con friend of Harry's was in the wrong place at the wrong time and is now accused of stealing art, and Harry now has to compete with a hot shot insurance investigator to find the real thief.
Yankee Boodle Dandy
10
62802
December 1, 1987
Strange things are happening in Harry's world. Ellie's client is a rich kid who is in jail for assault on his girl friend, and he doesn't want to leave. And then there's the body that is sometimes in Harry's trunk, and sometimes not.
Old Heroes Die Hard
11
62814
December 8, 1987
Harry's friend asks for help when his gambling dad is accused of murdering a loan shark.
Gilhooley's is History
12
62817
January 13, 1988
Harry is down in the dumps because a hard nosed developer is about to raze the detective's favorite pub.
Beware the Ides of May
13
62812
January 20, 1988
What should be a joyous event, a birthday, is turning out to be a not so happy day for Ellie, who has become the target for someone who wants her dead.
Waiting Game
14
62822
January 27, 1988
It looks like Harry will miss his poker game to help Ellie sway a split jury at the retrial of a case her late husband lost.
Harry Does the Hustle
15
62820
February 3, 1988
Harry gets help out-hustling a pool shark from a broke student, while equally broke Ellie puts the little money she has into what sounds like a scam.
Maginnis for the People
16
62824
February 10, 1988
Ellie is enlisted by the prosecution in a murder trial, while Harry goes to work for the defense attorney who has trouble believing their defendant didn't commit the crime.
DVD Release
[
]
The complete series boxset of "The Law & Harry McGraw" is expected to be released sometime in the next two years, shorty after the release of the Murder, She Wrote: TV Movies.
Background Information
[
]
The Law & Harry McGraw was created and produced by "Murder, She Wrote" co-creator

Peter S. Fischer

.
The character of Harry McGraw would go on to appear in a further 3 episode of Murder, She Wrote following the shows cancellation.
See Also
[
]
The Law & Harry McGraw Crew
External Links
[
]