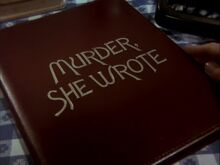 Murder, She Wrote: Season One
Murder, She Wrote: Season Two
Murder, She Wrote: Season Three
Murder, She Wrote: Season Four
Murder, She Wrote: Season Five
Episodes:

"The Last Flight of the Dixie Damsel"
Murder, She Wrote: Season Six
Murder, She Wrote: Season Seven
Murder, She Wrote: Season Eight
Murder, She Wrote: Season Nine
Murder, She Wrote: Season Ten
Murder, She Wrote: Season Eleven
Murder, She Wrote: Season Twelve
Murder, She Wrote: TV Movies
The Law & Harry McGraw
Novels
Games
DVDs
Production Information
[
]
Production Number: 63702
Aired: December 18th, 1988
Written By: Peter S. Fischer
Directed By: Vincent McEveety
INSERT EPISODE SCREENSHOT HERE
Created By: Peter S. Fischer, Richard Levinson & William Link
Executive Producers: Peter S. Fischer
Producer: Robert Van Scoyk
Summary
[
]
Jessica is summoned to California where a recently recovered Air Force plane could pin a decades-old murder on her dead husband, Frank.
Trivia
[
]
The vintage "Dixie Damsel", one of the few "Air Fortresses" still in mechanical order for flight, was flown into Burbank from where the airplane is berthed in Idaho State.
Second episode where Jessica solves a years old murder with no additional recent murder; the first is The Days Dwindle Down.
First appearance of Lee Goddard, who will only appear in this, and the subsequent episode.
Lee Goddard was played by Dale Robertson but his name did not appear in the credits of either episode due to a disagreement regarding MSW policy of alphabetical listing of guests. Robertson stated he'd rather not have any credit.
Only time we see Jessica's deceased husband Frank, albeit in black & white newsreel footage.
Victim: Sgt. Peter Gagliano
Killer: Nicholas Rossi/Vito Ciccarelli
Cause of death: 45. caliber gunshot
Motive: None revealed, though likely Ciccarelli thought he'd expose their smuggling operation.
Starring
[
]
Regular Cast
[
]
Angela Lansbury as Jessica Fletcher
Recurring Cast
[
]
Dale Robertson as Lee Goddard
Guest Stars
[
]
Michael Ansara as Nicholas Rossi
Jane Greer as Bonnie Phelps
Clifton James as Ray Dressler
Martin Milner as Clint Phelps
Richard Roundtree as Major Kevin Cooper
Robin Strasser as Sylvia Gagliano
Efrem Zimbalist, Jr. as Gen. Marcus Havermeyer