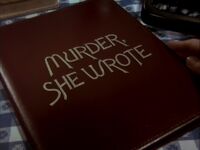 Murder, She Wrote: Season One
Murder, She Wrote: Season Two
Murder, She Wrote: Season Three
Murder, She Wrote: Season Four
Murder, She Wrote: Season Five
Murder, She Wrote: Season Six
Murder, She Wrote: Season Seven
Murder, She Wrote: Season Eight
Murder, She Wrote: Season Nine
Murder, She Wrote: Season Ten
Episodes:

"The Dying Game"
"Roadkill"
Murder, She Wrote: Season Eleven
Murder, She Wrote: Season Twelve
Murder, She Wrote: TV Movies
The Law & Harry McGraw
Novels
Games
DVDs
Production Information
[
]
Production Number:
Aired:
Written By:
Directed By:
INSERT EPISODE SCREENHOT HERE
Created By:
Executive Producers:
Producer
Summary
[
]
In New York City to finalize a deal for the Museum of Contemporary Culture, Jessica finds herself trying to solve a murder. Her friend Floyd Larkin, owner of the venerable Larkins Department Store, is preoccupied when someone is found murdered on the premises. Things seem to go from bad to worse when Larkin tells Jessica that he's backing out of his promised support for the Museum and is selling his store to a rival chain owned by Clint Hallowell. It's a bitter pill, especially for long-time employees who worry about their future. When Hallowell is also killed - by a crossbow - there is no shortage of possible suspects.
Victim(s): Henry Wilson and Clint Hallowell
Killer: Floyd Larkin
Cause of Death: Axed in the back; shot in the chest with a crossbow
Motive: Discovered he'd been embezzling from clients to keep the store afloat; to obtain a file from him revealing his motive for Henry's murder.
When Jessica learned of the new addition to Ernie & Sharain, & brings up Ibrihim Abraham Fishman, she brings up the only difference is the spelling, some one needed to tell her that the other difference is the pronounciation of Ibrahim.
Starring
[
]
Regular Cast
[
]
Angela Lansbury as Jessica Fletcher
Recurring Cast
[
]
Guest Stars
[
]
Peter Donat as Floyd Larkin
Joel Fabiani as Thornton Brewer
Mimi Kuzyk as Athena 'Tina' Poulos
Andy Lauer as Ernie Fisherman
Martin Milner as Bill Maguire
Kate Mulgrew as Maude Gillis
Michele Lamar Richards as Meredith Peckham
Michael Tolan as Lt. Alan Terwilliger
Musetta Vander as Shirin Hourani
Harley Venton as Clint Hallowell
Episode Chronology
[
]
See Also
[
]
External Links
[
]