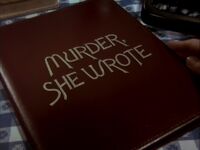 Murder, She Wrote: Season One
Murder, She Wrote: Season Two
Murder, She Wrote: Season Three
Episodes:

"The Days Dwindle Down"
Murder, She Wrote: Season Four
Murder, She Wrote: Season Five
Murder, She Wrote: Season Six
Murder, She Wrote: Season Seven
Murder, She Wrote: Season Eight
Murder, She Wrote: Season Nine
Murder, She Wrote: Season Ten
Murder, She Wrote: Season Eleven
Murder, She Wrote: Season Twelve
Murder, She Wrote: TV Movies
The Law & Harry McGraw
Novels
Games
DVDs
Production Information
[
]
Production Number:
Aired: April 19th, 1987
Written By: Philip Gerson
Directed By: Michael (J) Lynch
INSERT EPISODE SCREENSHOT HERE
Created By: Peter S. Fischer, Richard Levinson & William Link
Executive Producers: Peter S. Fischer
Producer: Robert F. O'Neill
Starring
[
]
Regular Cast
[
]
Angela Lansbury as Jessica Fletcher
Recurring Cast
[
]
Guest Stars
[
]
Richard Beymer as Sydney Jarvis
June Havoc as Thelma Vantay
Art Hindle as Rod Wilson
Jeffrey Lynn as Sam Wilson
Harry Morgan as Retired Lieutenant Richard Webb
Martha Scott as Georgia Wilson
Susan Strasburg as Dorothy Hearn Davis
Gloria Stuart as Edna Jarvis
Summary
[
]
Jessica is approached by an elderly waitress, begging for her to investigate a thirty-year-old murder.
DVD Release
[
]
Trivia
[
]
This episode is a follow-up to the 1949 film Strange Bargain. The flashback scenes are taken from that film, the episode continues its plot and Jeffrey Lynn, Martha Scott and Harry Morgan all reprise their roles from the original movie.
This is the second episode where the murder is an accident, and the first in which it was not done in self-defense (both of which were Footnote to Murder). It's also the first episode to have Jessica investigate an older murder without a recent one also taking place.
Debbie Zipp, Michael Horton's real life wife, has a small guest role in this episode; she will later play Grady Fletcher's girlfriend and eventual wife.
The late Gloria Stuart, who plays Edna Jarvis, is probably best known as the older version of Rose from James Cameron's Titanic (1997).
Victim: Malcolm Jarvis
Killer: Edna Jarvis (sort of).
Cause of death: Gunshot.
Motive: None, death was an accident due to struggling with a gun as he tried to kill himself.
The entrance of the estate in this episode, does not match up the entrance of the estate in the episode Family Jewels with Brenda Vaccaro.
See Also
[
]
External Links
[
]
Strange Bargain (IMDB)