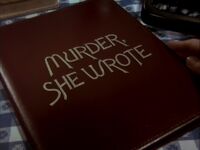 Murder, She Wrote: Season One
Murder, She Wrote: Season Two
Murder, She Wrote: Season Three
Episodes:

Murder, She Wrote: Season Four
Murder, She Wrote: Season Five
Murder, She Wrote: Season Six
Murder, She Wrote: Season Seven
Murder, She Wrote: Season Eight
Murder, She Wrote: Season Nine
Murder, She Wrote: Season Ten
Murder, She Wrote: Season Eleven
Murder, She Wrote: Season Twelve
Murder, She Wrote: TV Movies
The Law & Harry McGraw
Novels
Games
DVDs
Production Number:
Aired: January 18th, 1987
Written By: Donald Ross
Directed By: Walter Grauman
INSERT EPISODE SCREENSHOT HERE
Created By: Peter S. Fischer, Richard Levinson & William Link
Executive Producers: Peter S. Fischer
Producer: Robert F. O'Neill
While on a flight to London, a wealthy woman's chauffeur dies suddenly, and when the priceless necklace he was carrying turns up missing, it becomes a case of murder.
This is the first episode to have people arrested for the murder and for a non-related crime.
Twelve of the characters have the last names of musicians, singers or arrangers who worked for Duke Ellington: Louis Metcalf (Gene Nelson) and his wife (Mary Jo Catlett), Kay Davis (Robin Dearden), Sonny Greer (Kate Mulgrew), Fred Jenkins (Andrew Parks), Dr. Clint Strayhorn (John S. Ragin), Captain Whetsel (Chris Robinson), Otto Hardwick (Robert Walker Jr.), Leon Bigard (Mark Venturini), Carney (Charles Hoyes), Mr. Miley (Don Maharry) and his wife (Crystal Jenious). Some (Louis Metcalf, Kay Davis, Sonny Greer, Fred Jenkins and Otto Hardwick) also have the same first names as their Ellingtonian counterparts, though the Sonny Greer who worked for Ellington, his first drummer, was a man.
The in-flight film that the passengers are watching is a compilation of the car chase scenes from The Blues Brothers (1980).
Kate Mulgrew would later star in Star Trek: Voyager, where she would play the titular ship's captain, Kathryn Janeway.
Kate was also the star of the series Mrs. Columbo (later renamed Kate Loves a Mystery) which was implied to be the adventures of the never seen wife of the famed detective; however, Levinson & Link, (who created Columbo, in addition to MSW) were not involved in the series in any way and disavowed it, leading to its' eventual name change and swift cancellation.
Victim: Leon Bigard
Killer: Sonny Greer
Cause of death: Poisoning via spiked pills.
Motive: Leon was going to dump her for someone else who could help him achieve a better career.
When the flight hits turbulence, the captain tells everyone to put on their seat belt. You see/hear everyone doing it but when the flight attendant tells the "corpse" to put on his seat belt, he falls forward and she screams. The instant she screams, at least 6 people jump to their feet without unbuckling.
As the airplane is coming in to land at Heathrow, there is an establishing shot of the wheels down and in the background there are cars traveling on the British motorway system. Except the cars are driving on the wrong side of the road.
Angela Lansbury as Jessica Fletcher
Mary Jo Catlett as Agnes Metcalf
Robin Dearden as Kay Davis
Pat Harrington, Jr. as Gunnar Globle
David Hemmings as Errol Pogson
Kate Mulgrew as Sonny Greer
Gene Nelson as Louis Metcalf
Andrew Parks as Fred Jenkins
John S. Ragin as Dr. Clint Strayhorn
Chris Robinson as Captain Whetsel
James Shigeta as John Sugahara
Robert Walker, Jr. as Otto Hardwick
Mark Venturini as Leon Bigard
Community content is available under
CC-BY-SA
unless otherwise noted.