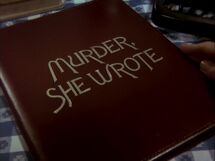 Murder, She Wrote: Season One
Murder, She Wrote: Season Two
Murder, She Wrote: Season Three
Murder, She Wrote: Season Four
Murder, She Wrote: Season Five
Murder, She Wrote: Season Six
Murder, She Wrote: Season Seven
Murder, She Wrote: Season Eight
Murder, She Wrote: Season Nine
Episodes:

"The Mole"
"The Classic Murder"
"Dead Eye"
Murder, She Wrote: Season Ten
Murder, She Wrote: Season Eleven
Murder, She Wrote: Season Twelve
Murder, She Wrote: TV Movies
The Law & Harry McGraw
Novels
Games
DVDs
Production Information
[
]
Production Number:
Aired:
Written By:
Directed By:
INSERT EPISODE SCREENHOT HERE
Created By:
Executive Producers:
Producer
Summary
[
]
The father of Jessica's editor disappears with one hundred and fifty million dollars.
Victim(s): Buck Wilson and Marika Valenti
Killer: George Foster
Cause of Death: Gunshot x2.
Motive: To steal the money in order to be rid of his wife, Janine Foster, as he was fed up with her frequent suspicions of his being unfaithful.
With Buck's weight & girth, it's highly unlikely that his brother-in-law would carry him like a baby to where he was found, & with Buck's weight & girth, he can fit where he was found, is also highly unlikely, don't you think  ?
Starring
[
]
Regular Cast
[
]
Angela Lansbury as Jessica Fletcher
Guest Stars
[
]
John Di Aquino as Sgt. Tom Jarrow
Michael Knight as B.J. Wilson
Louise Latham as Mrs. Oates
Natalija Nogulich as Marika Valenti
John Rubinstein as George Foster
Rita Taggart as Janine Foster
Wayne Tippit as Buck Wilson
Jessica Tuck as Sally Wilson
Stephen Liska as Carl Graham
Co-Stars
[
]
Charles Hoyes as Phil
Julian Barnes as Inspector Moss
Lisa Melilli as Waitress
Anthony S. Johnson as Unnamed Deputy
The whole story centers around the cistern where Marika's body was found in, so was there any necessity for her to bring up that's where Uncle Bill Foster had disposed of Buck's body, given that Buck's body was found the back seat of one his classic cars ?
Episode Chronology
[
]
See Also
[
]
External Links
[
]