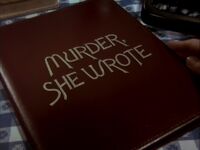 Murder, She Wrote: Season One
Murder, She Wrote: Season Two
Murder, She Wrote: Season Three
Murder, She Wrote: Season Four
Episodes:

"Deadpan"
"The Body Politic"
Murder, She Wrote: Season Five
Murder, She Wrote: Season Six
Murder, She Wrote: Season Seven
Murder, She Wrote: Season Eight
Murder, She Wrote: Season Nine
Murder, She Wrote: Season Ten
Murder, She Wrote: Season Eleven
Murder, She Wrote: Season Twelve
Murder, She Wrote: TV Movies
The Law & Harry McGraw
Novels
Games
DVDs
Production Information
[
]
Production Number:
Aired: May 8th, 1988
Written By: Donald Ross
Directed By: Anthony (Pullen) Shaw
INSERT EPISODE SCREENSHOT HERE
Created By: Peter S. Fischer, Richard Levinson & William Link
Executive Producers: Peter S. Fischer
Producer: Robert Van Skoyk
Summary
[
]
Jessica is visiting her old friend Kathleen Lane, who is running for a senate seat. A rumor circulates that she is romantically involved with her speech writer, Bud Johnson and after he disappears, Jessica is chosen as new speechwriter. When Bud appears to have committed suicide, a skeptical Jessica suspects it's murder and delves into the dirty business of politics to find out who seeks to damage Kathleen's campaign.
Trivia
[
]
The late Eddie Albert is probably best known as Oliver Wendell Douglas from the series Green Acres (1964).
Daphne Maxwell-Reid, who plays Nan, will later be known as the second actress to play Vivian Banks on the Fresh Prince of Bel-Air (1990).
Shirley Jones is best known for her time on The Partridge Family.
Victim: Bud Johnson
Killer: Jackson Lane
Cause of death: Thrown off balcony after being hit by hammer (rigged to look like suicide).
Motive: Wanted his wife Kathleen's senate campaign to end, as it was bringing too much media attention to his questionable finances and hoped Bud's "suicide" would do so.
Starring
[
]
Regular Cast
[
]
Angela Lansbury as Jessica Fletcher
Recurring Cast
[
]
Guest Stars
[
]
Eddie Albert as Jackson Lane
Peter Fox as Bud Johnson
Robert Fuller as Arthur Drelinger
George Grizzard as Edmund Hall
Shirley Jones as Kathleen Lane
Harrison Page as Lt. Dennis Gowens
Daphne Maxwell Reid as Nan Wynn
James Sloyan as C.W. Butterfield
Summary
[
]
DVD Release
[
]
Episode Chronology
[
]
See Also
[
]
External Links
[
]