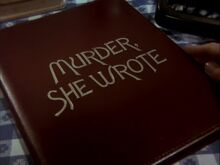 Murder, She Wrote: Season One
Murder, She Wrote: Season Two
Episodes:

"Sticks and Stones"
Murder, She Wrote: Season Three
Murder, She Wrote: Season Four
Murder, She Wrote: Season Five
Murder, She Wrote: Season Six
Murder, She Wrote: Season Seven
Murder, She Wrote: Season Eight
Murder, She Wrote: Season Nine
Murder, She Wrote: Season Ten
Murder, She Wrote: Season Eleven
Murder, She Wrote: Season Twelve
Murder, She Wrote: TV Movies
The Law & Harry McGraw
Novels
Games
DVDs
Production Information
[
]
Production Number:
Aired: December 15th, 1985
Teleplay by: Linda Shank & Mark Giles

Story by: Linda Shank, Mark Giles & Jackson Gillis

Directed By: Seymour Robbie
Created By: Peter S. Fischer, William Levinson & Richard Link
Executive Producers: Peter S. Fischer
Producer: Robert F. O'Neill
Summary
[
]
After a woman is electrocuted to death in her bathtub Cabot Cove is flooded with poison pen letters that turn neighbors against each other.
Trivia
[
]
This was John Astin's final appearance as Harry Pierce.
The title is from the childhood rhyme that is meant to repel name callers: "Sticks and stones may break my bones, but words will never hurt me."
Storyline lifted from "Miss Marple: The Moving Finger (1985)"
This was Betsy Palmer's first appearance on the show. Her later appearance is the Season 5 episode, "Something Borrowed, Someone Blue", this time as the actual killer (a nod to her Pamela Voorhees self of Friday the 13th movie?).
Identity of the murderer is a shocker. (if you don't want to know, don't read below).
Victim(s): Beverly Gareth & Elvira Tree
Killer: Harry Pierce
Cause of death: Electrocution; hanging.
Motive: Blackmail due to arson committed in the past to help condo development; to discredit her letter revealing the purpose of said arson.
Goofs
[
]
Sheriff Tupper receives an anonymous letter and when he reads it, the letter is a single sheet of paper, no lines, with smooth edges. When he reads the same letter he received in the sheriff's office, the letter is a lined piece of paper with hole punches and a frayed edge.
When Amos and Harry are investigating the electrical outlet in the bathroom, the camera pans too far, revealing the edge of the set wall in the lower-right corner of the screen.
When Jessica and Amos are in Beverly's basement and they hear Adam coming to the basement, Jessica turns off the light bulb and then grabs it to unscrew it and take it with her to hide behind the boxes. The light had been on for several minutes so the bulb would have been too hot for her to handle bare-handed immediately upon turning the light off.
The old wooden lighthouse that was burned down by Harry, Jessica first said that it was old coast guard property, Digby brought up this isn't old Coast Guard property anymore, Jess replied that it never was & she brought up that Beverly's father gave it to the Coast Guard with a perpetual lease, so the lighthouse was given to the Coast Guard, but with the Coast Guard never owning the property, they only leased it, so it's highly unlikely that a lighthouse would be allowed to be built on leased property, meaning that they didn't own the land, so how could the lighthouse be built on what the Coast Guard had leased & not owned, when according to a Disney Book when it came the movie Pete's Dragon, the Coast Guard allowed it to be built only if the lighthouse was registered to the Coast Guard.
Starring
[
]
Regular Cast
[
]
Angela Lansbury as Jessica Fletcher
Recurring Cast
[
]
John Astin as Sheriff Harry Pierce
Tom Bosley as Ex-Sheriff Amos Tupper
Betsy Palmer as Lila Norris
William Windom as Dr. Seth Hazlitt
Guest Stars
[
]
Paul Benedict as Friedrich Hoffman
Joseph Campanella as George Knapp
John David Carson as Larry Burns
Marsha Hunt as Elvira Tree
Evelyn Keyes as Edna Kensington
Denny Miller as Nils Anderson
Parker Stevenson as Michael Digby
Christopher Stone as Adam Frobisher
Co-Starring
[
]
Howard Witt as Bart Nelson
Phillip Brown as Deputy
Ceil Cabot as Woman
Ken Sansom as Man
Bob Tzudiker as Agent
Garnett Smith as Postman Mel
Kristy Syverson as Beverly Gareth
Danny McCoy, Jr. as Waiter
DVD Release
[
]
Episode Chronology
[
]
See Also
[
]
External Links
[
]