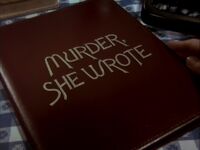 Murder, She Wrote: Season One
Murder, She Wrote: Season Two
Murder, She Wrote: Season Three
Episodes:

"Stage Struck"
Murder, She Wrote: Season Four
Murder, She Wrote: Season Five
Murder, She Wrote: Season Six
Murder, She Wrote: Season Seven
Murder, She Wrote: Season Eight
Murder, She Wrote: Season Nine
Murder, She Wrote: Season Ten
Murder, She Wrote: Season Eleven
Murder, She Wrote: Season Twelve
Murder, She Wrote: TV Movies
The Law & Harry McGraw
Novels
Games
DVDs
Production Information
[
]
Production Number:
Aired: December 14th, 1986
Written By: Philip Gerson
Directed By: John Astin
INSERT EPISODE SCREENSHOT HERE
Created By: Peter S. Fischer, Richard Levinson & William Link
Executive Producers: Peter S. Fischer
Producer: Robert F. O'Neill
Summary
[
]
The murder of the leading lady's understudy disrupts a play starring two previously married actors.
Starring
[
]
Regular Cast
[
]
Angela Lansbury as Jessica Fletcher
Recurring Cast
[
]
Guest Stars
[
]
Shea Farrell as Larry Matthews
Bob Hastings as Eddie Bender
Donald Most as T.J. Holt
Edward Mulhare as Julian Lord
Christopher Norris as Pru Mattson
Dan O'Herlihy as Alexander Preston
Eleanor Parker as Maggie Tarrow
John Pleshette as Nicky Saperstein
John Schuck as Chief Merton P. Drock
Ann Turkel as Barbara Bennington
Trivia
[
]
This episode was directed by John Astin, who previously appeared in 3 episodes as Harry Pierce
Edward Mulhare last appeared in One Good Bid Deserves a Murder, where he played one of the victims.
Victim: Barbara Bennington
Killer: Julian Lord
Cause of death: Poisoned
Motive: Barbara was blackmailing him by threatening to reveal that Nicky Saperstein was his long ago abandoned son.
If Nicky was the long abandoned son, then why did the police chief suspect that the abandoned son was Larry Matthews & also with it being brought up that the poison was very fast active, she would have died before she got to her dressing room before the intermission, not when she keeled over after she emerged from her dressing room.
DVD Release
[
]
Episode Chronology
[
]
See Also
[
]
External Links
[
]