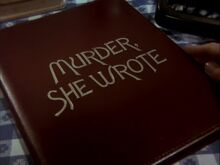 Murder, She Wrote: Season One
Murder, She Wrote: Season Two
Murder, She Wrote: Season Three
Murder, She Wrote: Season Four
Murder, She Wrote: Season Five
Episodes:

"Something Borrowed, Someone Blue"
Murder, She Wrote: Season Six
Murder, She Wrote: Season Seven
Murder, She Wrote: Season Eight
Murder, She Wrote: Season Nine
Murder, She Wrote: Season Ten
Murder, She Wrote: Season Eleven
Murder, She Wrote: Season Twelve
Murder, She Wrote: TV Movies
The Law & Harry McGraw
Novels
Games
DVDs
Production Information
[
]
Production Number:
Aired: January 8th, 1989
Written By: Philip Gerson
Directed By: John Llewellyn Moxey
Created By: Peter S. Fischer, Richard Levinson & William Link
Executive Producers: Peter S. Fischer
Producer: Robert Van Scoyk
Summary
[
]
Grady's wedding day arrives, and so does an unpleasant fate for the shrewish housekeeper of his prospective father-in-law's estate.
Trivia
[
]
Gale Storm's final acting performance.
Michael Horton and Debbie Zipp are married in real life so, in essence, Grady was marrying his real life wife.
Per the title, for good luck the bride must wear something old, something new, something borrowed and something blue.
Conchata Ferrell would later go on to play a similarly tough housekeeper on Two & A Half Men.
It shouldn't surprise too many people that Betsy Palmer's character is the killer, seeing how she played Mrs. Voorhees in Friday the 13th (1980). This is her Second Appearance in the show. Her first (not acting as a killer) was in the Season 2 episode "Sticks and Stones".
Victim: Harriet Lundgren
Killer: Valerie
Cause of death: Stabbed in back with a meat thermometer.
Motive: Harriet had worked for her under a different name, where she allegedly killed her husband for the insurance, and was afraid she might expose her.
Goofs
[
]
The party crasher is called "Cousin Clara" several times until Jessica approaches her to attempt to expose her as such. Jessica addresses the imposter as "Aunt Clara" and proceeds to ferret out the truth.
With Harriett, the housekeeper's girth, you tell me how Ziggy's fiancee, Valerie has the stamina to carry Harriett's body to where it was found those boys who found the body ?
Starring
[
]
Regular Cast
[
]
Recurring Cast
[
]
Guest Stars
[
]
DVD Release
[
]
Episode Chronology
[
]
See Also
[
]
External Links
[
]