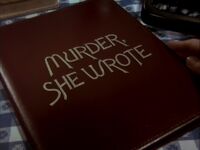 Murder, She Wrote: Season One
Murder, She Wrote: Season Two
Murder, She Wrote: Season Three
Murder, She Wrote: Season Four
Episodes:

"Showdown in Saskatchewan"
"Deadpan"
Murder, She Wrote: Season Five
Murder, She Wrote: Season Six
Murder, She Wrote: Season Seven
Murder, She Wrote: Season Eight
Murder, She Wrote: Season Nine
Murder, She Wrote: Season Ten
Murder, She Wrote: Season Eleven
Murder, She Wrote: Season Twelve
Murder, She Wrote: TV Movies
The Law & Harry McGraw
Novels
Games
DVDs
Production Information
[
]
Production Number:
Aired: April 10th, 1988
Written By: Dick Nelson
Directed By: Vincent McEveety
INSERT EPISODE SCREENSHOT HERE
Created By: Peter S. Fischer, Richard Levinson & William Link
Executive Producers: Peter S. Fischer
Producer: Robert Van Scoyk
Summary
[
]
Jessica visits her niece, Jill Morton, as her mother, Louise, suspects her romantic link with Marty Reed while on a rodeo circuit. They witness a crazy bet to stay longest on a mean bull but before they could ride, the bull charged and hurt some of them. Doc Schaeffer, the dodgy circuit healer, treats Boone Talbot's best boy, Luke Purdue, for a leg-wound and grounds Marty with a concussion. Next night Doc is killed by arson but Luke is pulled out of Doc's trailer just in time. RCMP (Mounties) Inspector Roger McCabe, a JB Fletcher mystery fan, officially investigates and confers with Jessica. Doc's widow says he made lots of enemies and, before her marriage, practiced ten years in jail but she won't miss him. Marty is visited by his wife and son, Buster. After Boone gets wounded, heroically saving Marty from a bull's horns, the young father pulls out with a mild arm injury, to Luke's fury, thus ruining their chance at an annual title. A call from prison warden Burns inspires Jessica
Trivia
[
]
Second episode in which Jessica visits Canada. The first was earlier in the season in Witness for the Defense.
Joe Dorsey (Doc Schaeffer) also played the murder victim in Death Stalks the Big Top (Part 2).
Victim: Doc Schaffer
Killer: Luke Purdue (a.k.a. Carl Mattson)
Cause of death: Smoke inhalation due to a fire.
Motive: The doc taking x-ray's of his leg would've revealed pins in it, which the doc put in himself when he treated "Luke" in prison, which would've revealed his true identity as an escaped convict.
Starring
[
]
Regular Cast
[
]
Angela Lansbury as Jessica Fletcher
Recurring Cast
[
]
Guest Stars
[
]
Rosana DeSoto as Consuela Schaeffer
Joe Dorsey as Doc Schaeffer
Patrick Houser as Marty Reed
Terry Kiser as Wally Brice (2nd appearance, with one of Jessica niece in the episode)
Lance LeGault as Inspector Roger McCabe
Paul LeMat as Luke Purdue
Kristy McNichol as Jill Morton
Larry Wilcox as Boone Talbot
Cassie Yates as Carla Talbot
DVD Release
[
]
Murder. She Wrote: the Complete Fourth Season
Episode Chronology
[
]
See Also
[
]
External Links
[
]