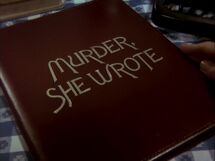 Murder, She Wrote: Season One
Murder, She Wrote: Season Two
Murder, She Wrote: Season Three
Murder, She Wrote: Season Four
Murder, She Wrote: Season Five
Murder, She Wrote: Season Six
Murder, She Wrote: Season Seven
Murder, She Wrote: Season Eight
Murder, She Wrote: Season Nine
Episodes:

"The Mole"
"Dead Eye"
"Ship of Thieves"
Murder, She Wrote: Season Ten
Murder, She Wrote: Season Eleven
Murder, She Wrote: Season Twelve
Murder, She Wrote: TV Movies
The Law & Harry McGraw
Novels
Games
DVDs
Production Information
[
]
Production Number:
Aired:
Written By:
Directed By:
INSERT EPISODE SCREENHOT HERE
Created By:
Executive Producers:
Producer
Summary
[
]
While on a cruise, Jessica helps an old friend, now a ship's security chief, investigate when a woman is found dead in the cargo area.
Victim: Janet Fisk
Killer: Leslie Hunter
Cause of Death: Thrown from a balcony
Motive: Feared Janet would expose her as the smuggler.
Leslie wasn't the one that killed Janet Fiske, she was shot before the ship had set sail, remember, the beginning of the episode Janet was shot first & that wasn't Merriweather that did it, now was it, plus, the fact that the only person that saw the lighter was Alma Sobel who purloined the lighter, so I can't see how Leslie would have seen Janet with the Captain, given the shooting took place before the ship had set sail. Think about it, not once did they play up the story as to how Janet knew that Leslie was the one who was the smuggler, now did they ? If Janet had known that Leslie was the smuggler, then why the story for Jessica, the arresting officer, the Captain to be the only ones to know of it ?
Starring
[
]
Regular Cast
[
]
Angela Lansbury as Jessica Fletcher
Recurring Cast
[
]
Keith Michell as Dennis Stanton
Guest Stars
[
]
Dwier Brown as Philip Polachek
Jon Cypher as Capt. Rory O'Neil
Michelle Johnson as Janet Fisk
Lee Meriwether as Leslie Hunter
Albie Selznick as Marvin Sobel
Ellia Thompson as Molly Altrip
George Tovar as Roland Devereux
Jane Withers as Alma Sobel
Michael Woods as Lance Brinegar
Co-Stars
[
]
Sharon Lee Jones as Diana Peale
Jack Garner as Mr. Worthington
Sarah Partridge as Agnes Lowry
Sammy Goldstein as Comic
Kim Delgado as Purser
J.R. Starr as Shopkeeper (as J. R. Starr)
Walter Kelley as Passenger
Towers Monaco as Seaman
Episode Chronology
[
]
See Also
[
]
External Links
[
]