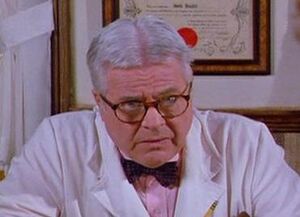 Seth Hazlitt
Gender: Male
Current Status: Alive
Professional Information
Title: Dr. Hazlitt


Buford Hazlitt (cousin)
Rob Hazlitt (cousin)


Amy Walters (niece)
Occupation: Doctor

Personal Information
Spouse: Ruth Hazlitt (deceased)
Relatives: Unnamed daughter (possibly named Margie)


Unnamed grandchild


Richard Hazlitt (brother)
Alice Davies Hazlitt (sister-in-law)
Carolyn Hazlitt (niece)
Mark Hazlitt (nephew)

Home Town: Cabot Cove, Maine

Episode Chronology
Played By
Actor: William Windom
Seth Hazlitt is the doctor from the television show, Murder, She Wrote.
When he and his brother, Richard, were young, they both tried to sign up to the navy, but were turned down because they were both too drunk and young. Later, they both fell in love with a woman named Molly, which caused their rift. For years, they grew apart because of their love for Molly. In the episode "Deadly Misunderstanding" at the very end, Jessica mentions Seth is waiting for his daughter to have a baby.
Season Eleven's "Scent of Murder" and Season Twelve's "What You Don't Know Can Kill You" seem to contradict the statement that Seth and Richard are each other's "only family," but, obviously, Richard has children, so the statement seems to be referring to surviving parents and siblings, not extended family or progeny. How Amy Walters is his niece is not clearly stated in her one appearance, but she could be his niece on Ruth's side.
During Jessica's years as a writer and mystery solver, Seth was a local doctor in Cabot Cove. He often assists Jessica and Amos Tupper with murder cases whenever they turned up. He either provided medical or intellectual information about murder victims or the murderers themselves.
In one episode, Seth participated in investigating his late brother's murder and saw it through.
Murder, She Wrote: Season Three
Death Stalks the Big Top (Part 1)
Death Stalks the Big Top (Part 2)
Unfinished Business
One White Rose for Death
Corned Beef & Carnage
Dead Man's Gold
Deadline for Murder
Magnum on Ice
Obituary for a Dead Anchor
Stage Struck
Night of the Headless Horseman
The Corpse Flew First Class
Crossed Up
Murder in a Minor Key
The Bottom Line Is Murder
Death Takes a Dive
Simon Says, Color Me Dead
No Laughing Murder
No Accounting for Murder
The Cemetery Vote
The Days Dwindle Down
Murder, She Spoke
Murder, She Wrote: Season Six
Appointment in Athens
Seal of the Confessional
The Grand Old Lady
The Error of Her Ways
Jack & Bill
Dead Letter
Night of the Tarantula
When the Fat Lady Sings
Test of Wills
Class Act
Town Father
Goodbye Charlie
If the Shoe Fits
How to Make a Killing Without Really Trying
The Fixer-Upper
The Big Show of 1965
Murder - According to Maggie
O'Malley's Luck
Always a Thief
Shear Madness
The Szechuan Dragon
The Sicilian Encounter
Murder, She Wrote: Season Seven
Trials & Tribulations
Deadly Misunderstanding
See You in Court, Baby
Hannigan's Wake
The Family Jewels
A Body to Die For
The Return of Preston Giles
The Great Twain Robbery
Ballad for a Blue Lady
Murder in F Sharp
Family Doctor
Suspicion of Murder
Moving Violation
Who Killed J.B. Fletcher?
The Taxman Cometh
From the Horse's Mouth
The Prodigal Father
Where Have You Gone, Billy Boy
Thursday's Child
Murder, Plain & Simple
Tainted Lady
The Skinny According to Nick Cullhane
Murder, She Wrote: Season Eight
Bite the Big Apple
Night Fears
Unauthorized Obituary
Thicker Than Water
Lines of Excellence
Judge Not
Terminal Connection
A Killing in Vegas
The Committee
The List of Yuri Lermentov
Danse Diabolique
The Witch's Curse
Incident in Lot 7
The Monte Carlo Murders
Tinker, Tailor, Liar, Thief
Ever After
To the End Will I Grapple With Thee
Programmed for Murder
Day of the Dead
Angel of Death
Badge of Honor
Murder On Madison Avenue
Murder, She Wrote: Season Nine
Murder in Milan
Family Secrets
The Mole
The Wind Around the Tower
The Dead File
Night of the Coyote
Sugar & Spice, Malice & Vice
The Classic Murder
A Christmas Secret
The Sound of Murder
Final Curtain
Double Jeopardy
Dead Eye
Killer Radio
The Petrified Florist
Threshold of Fear
The Big Kill
Dead to Rights
Lone Witness
Ship of Thieves
The Survivor
Love's Deadly Desire
Murder, She Wrote: Season Eleven
A Nest of Vipers
Amsterdam Kill
To Kill a Legend
Death in Hawaii
Dear Deadly
The Murder Channel
Fatal Paradise
Crimson Harvest
Murder by Twos
Murder of the Month Club
An Egg to Die For
The Scent of Murder
Death 'n Denial
Murder in High-C
Twice Dead
Film Flam
Murder a la Mode
The Dream Team
School for Murder
Another Killing in Cork
Game, Set, Murder
Murder, She Wrote: Season Twelve
Nailed
A Quaking in Aspen
The Secret of Gila Junction
Big Easy Murder
Home Care
Nan's Ghost (Part 1)
Nan's Ghost (Part 2)
Shooting in Rome
Deadly Bidding
Frozen Stiff
Unwilling Witness
Kendo Kill
Death Goes Double Platinum
Murder in Tempo
The Dark Side of the Door
Murder Among Friends
Something Foul in Floppieville
Track of a Soldier
Evidence of Malice
Southern Double-Cross
Race to Death
What You Don't Know Can Kill You
Mrs. Parker's Revenge
Death by Demographics
Community content is available under
CC-BY-SA
unless otherwise noted.