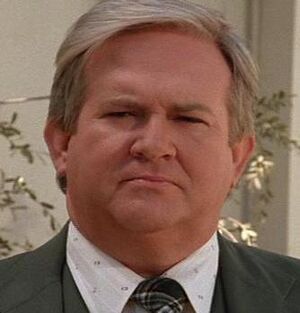 Sam Booth
Gender: Male
Current Status: Alive
Professional Information
Occupation: Mayor, Cabot Cove

Personal Information
Episode Chronology
First Appearance: Obituary for a Dead Anchor
Last Appearance: The Prodigal Father

Played By
Actor: Richard Paul
Sam Booth is the mayor of Cabot Cove. His re-election slogan was "The Do-Nothing Mayor."
Murder, She Wrote: Season Three
Death Stalks the Big Top (Part 1)
Death Stalks the Big Top (Part 2)
Unfinished Business
One White Rose for Death
Corned Beef & Carnage
Dead Man's Gold
Deadline for Murder
Magnum on Ice
Obituary for a Dead Anchor
Stage Struck
Night of the Headless Horseman
The Corpse Flew First Class
Crossed Up
Murder in a Minor Key
The Bottom Line Is Murder
Death Takes a Dive
Simon Says, Color Me Dead
No Laughing Murder
No Accounting for Murder
The Cemetery Vote
The Days Dwindle Down
Murder, She Spoke
Murder, She Wrote: Season Four
A Fashionable Way to Die
When Thieves Fall Out
Witness for the Defense
Old Habits Die Hard
The Way to Dusty Death
It Runs in the Family
If It's Thursday, It Must Be Beverly
Steal Me a Story
Trouble in Eden
Indian Giver
Doom With a View
Who Threw the Barbitals in Mrs. Fletcher's Chowder?
Harbinger of Death
Curse of the Daanav
Mourning Among the Wisterias
Murder Through the Looking Glass
A Very Good Year for Murder
Benedict Arnold Slipped Here
Just Another Fish Story
Showdown in Saskatchewan
Deadpan
The Body Politic
Murder, She Wrote: Season Five
J.B. As in Jailbird
A Little Night Work
Mr. Penroy's Vacation
Snow White, Blood Red
Coal Miner's Slaughter
Wearing of the Green
The Last Flight of the Dixie Damsel
Prediction: Murder
Something Borrowed, Someone Blue
Weave A Tangled Web
The Search for Peter Kerry
Smooth Operators
Fire Burn, Cauldron Bubble
From Russia With Blood
Alma Murder
Truck Stop
The Sins of Castle Cove
Trevor Hudson's Legacy
Double Exposure
Three Strikes, You're Out
Mirror, Mirror on the Wall (Part 1)
Mirror, Mirror on the Wall (Part 2)
Murder, She Wrote: Season Six
Appointment in Athens
Seal of the Confessional
The Grand Old Lady
The Error of Her Ways
Jack & Bill
Dead Letter
Night of the Tarantula
When the Fat Lady Sings
Test of Wills
Class Act
Town Father
Goodbye Charlie
If the Shoe Fits
How to Make a Killing Without Really Trying
The Fixer-Upper
The Big Show of 1965
Murder - According to Maggie
O'Malley's Luck
Always a Thief
Shear Madness
The Szechuan Dragon
The Sicilian Encounter
Murder, She Wrote: Season Seven
Trials & Tribulations
Deadly Misunderstanding
See You in Court, Baby
Hannigan's Wake
The Family Jewels
A Body to Die For
The Return of Preston Giles
The Great Twain Robbery
Ballad for a Blue Lady
Murder in F Sharp
Family Doctor
Suspicion of Murder
Moving Violation
Who Killed J.B. Fletcher?
The Taxman Cometh
From the Horse's Mouth
The Prodigal Father
Where Have You Gone, Billy Boy
Thursday's Child
Murder, Plain & Simple
Tainted Lady
The Skinny According to Nick Cullhane
Community content is available under
CC-BY-SA
unless otherwise noted.