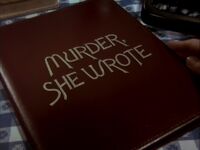 Murder, She Wrote: Season One
Murder, She Wrote: Season Two
Murder, She Wrote: Season Three
Murder, She Wrote: Season Four
Murder, She Wrote: Season Five
Murder, She Wrote: Season Six
Murder, She Wrote: Season Seven
Murder, She Wrote: Season Eight
Murder, She Wrote: Season Nine
Murder, She Wrote: Season Ten
Episodes:

"Roadkill"
Murder, She Wrote: Season Eleven
Murder, She Wrote: Season Twelve
Murder, She Wrote: TV Movies
The Law & Harry McGraw
Novels
Games
DVDs
Production Information
[
]
Production Number:
Aired:
Written By:
Directed By:
INSERT EPISODE SCREENHOT HERE
Created By:
Executive Producers:
Producer
Summary
[
]
While visiting a friend in Texas, Jessica attempts to help the owner of a small trucking company clear his son of a murder charge.
Trivia
[
]
The title refers to the remains of animals that have been struck and killed by an automobile and found on the side of the road, especially in heavily wooded areas or along the sides of highways. In the early 20th century, in the United States, the term was "flat meat".
Victim: Randy Jinks
Killer: Sam Mercer
Cause of Death: Hit by a truck.
Motive: Randy tried to blackmail him over his role in the smuggling operation.
Goofs
[
]
The truck involved in the accident did not slam its brakes on - it didn't even try to slow down - it kept going. When the investigation was taking place at the accident site, skid marks were clearly visible.
Starring
[
]
Regular Cast
[
]
Angela Lansbury as Jessica Fletcher
Recurring Cast
[
]
Guest Stars
[
]
Dirk Blocker as Sheriff Jim Monday
Joanna Cassidy as Willie Greenwood
Patrick Cassidy as Rob Platte
Beth Grant as Meg Thomas
Melora Hardin as Cindy Warrick
Earl Holliman as Wayne Platte
Whip Hubley as Randy Jinks
Gary Lockwood as Sam Mercer
Robert O'Reilly as A.J. Grodin
Brett Porter as Lance Taggart
Reni Santoni as Juan Ramos
Heath Kizzier as Deputy Sutton
Ron Leath as Doctor
Brantley Kearns as Band Member
Episode Chronology
[
]
See Also
[
]
External Links
[
]