We're Getting Mutants in the MCU - The Loop
Play Sound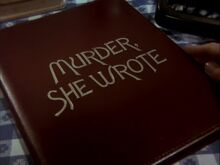 Murder, She Wrote: Season One
Murder, She Wrote: Season Two
Episodes:

"Reflections of the Mind"
Murder, She Wrote: Season Three
Murder, She Wrote: Season Four
Murder, She Wrote: Season Five
Murder, She Wrote: Season Six
Murder, She Wrote: Season Seven
Murder, She Wrote: Season Eight
Murder, She Wrote: Season Nine
Murder, She Wrote: Season Ten
Murder, She Wrote: Season Eleven
Murder, She Wrote: Season Twelve
Murder, She Wrote: TV Movies
The Law & Harry McGraw
Novels
Games
DVDs
Production Information
[
]
Production Number:
Aired:
November 3rd, 1985
Written By:
Robert E. Swanson
Directed By:
Seymour Robbie
INSERT EPISODE SCREENSHOT HERE
Created By:
Peter S. Fischer, Richard Levinson & William Link
Executive Producers:
Peter S. Fischer
Producer
Robert F. O'Neill
Summary
[
]
Jessica comes to stay with an old college friend, Francesca Lodge, after everyone thinks that she is suffering from a mental breakdown. Francesca insists that she is being haunted by the ghost of her first husband, who was killed in a car accident ten years ago. When her second husband also dies in a car wreck Francesca's grip on sanity begins to rapidly decline. Jessica suspects that more earthly forces are at work and sets out to discover who is tormenting her friend.
Trivia
[
]
During the opening credits, the camera pans over a table with several framed photos, one of which appears to be of Angela Lansbury and Ann Blyth in their younger acting days.
Victim: Scott Lodge
Killer(s): Cheryl Lodge & Carson Todd/Carl Knox
Cause of death: Automobile crash due to drinking spiked wine.
Motive: To get rid of both of Cheryl's parents (murdering Scott and driving Franchesca Lodge insane by making her believe her first husband was still alive) so she could get her inheritance and live life her way.
Goofs
[
]
When Scott Lodge's car falls over the cliff, it tumbles over the edge and lands on its roof with its wheels up in the air. It does not burst into flame as indicated later in by Sheriff Bodine.
When Margaret enters the living room to tell Francesca she has a phone call, part of a piece of black equipment can be seen at the right edge of the screen. It then moves out of the way just before the camera tracks to the right.
Jessica couldn't have made the call to Sheriff Bodine before the power cut out. The reason being is that, the character of Jessica wouldn't have had that forethought to make the call, because it showed that the character was the playing the actress. Showing that the actress knew what she needed to do as the character. If the actress stayed in character, there wouldn't be the need for the character to make the call, because it shows to the viewers that the actress knew what was needed, not the character.
Then this, when Fran had attacked Scott with the scissors, it never hit Scott at all, the angles of him preventing the stabbing was shown, so where's the story that had his hand bandaged at the hospital.
Then this: There was no story at all that Jessica knew that Carl & Cheryl were in cahoots. Because remember, she rigged everything up with Sheriff Bodine to get Cheryl to put that out there. So with no story at all that Jessica knew, why rig everything up to get Cheryl to admit to what she had done to Scott & her mother, given, that it was only known to the Sheriff & Jessica, wouldn't any lawyer get them off in playing up entrapment to get who to confess & bringing up hearsay between the four characters?
Starring
[
]
Regular Cast
[
]
Angela Lansbury as Jessica Fletcher
Guest Stars
[
]
Ann Blyth as Franchesca Lodge
Wings Hauser as Carson Todd / Carl
Steven Keats as Dr. Victor March
Martin Milner as Sheriff Robert Bodine
Ben Murphy as Scott Lodge
Stacey Nelkin as Cheryl Lodge
Esther Rolle as Margaret Ashmore
Janet DeMay as Brooke Devon
DVD Release
[
]
Episode Chronology
[
]
See Also
[
]
External Links
[
]