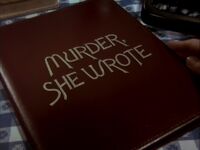 Murder, She Wrote: Season One
Murder, She Wrote: Season Two
Murder, She Wrote: Season Three
Murder, She Wrote: Season Four
Murder, She Wrote: Season Five
Murder, She Wrote: Season Six
Murder, She Wrote: Season Seven
Murder, She Wrote: Season Eight
Murder, She Wrote: Season Nine
Murder, She Wrote: Season Ten
Episodes:

"Proof in the Pudding"
"Roadkill"
Murder, She Wrote: Season Eleven
Murder, She Wrote: Season Twelve
Murder, She Wrote: TV Movies
The Law & Harry McGraw
Novels
Games
DVDs
Production Number:
Aired:
Written By:
Directed By:
INSERT EPISODE SCREENHOT HERE
Created By:
Executive Producers:
Producer
Jessica attends the opening of a new restaurant. But when the chef is killed, Jessica is the only one who can find the real killer.
John Saxon and Jsu Garcia also appeared in A Nightmare on Elm Street (1984). John Saxon as Nancy's father and Jsu Garcia as Rod Lane (Tina's boyfriend)
The title refers to the common old English idiom: "The proof of the pudding" or "the proof of the pudding is in the eating".
Goofs: Sfogi in Saor is what Bernardi was making. When Jessica brought up plumping up the raisins in hot water, by plumping up up the raisins, allowing the vinegar in which is also an ingredient in the dish to be absorbed into the raisins, would mask the sweetness of the raisins rendering the meal sour, not sweet & sour.
Angela Lansbury as Jessica Fletcher
Fran Bennett as Detective MacKenzie
Michael Brandon as Alex Weaver
Jsu Garcia as Manuel Ramirez (as Nick Corri)
Bobby Di Cicco as Philip Bonelli
Tony Lo Bianco as Paul Avoncino
John Saxon as Bernardo Bonelli
Liza Snyder as Jeannine Bonelli
Heidi Swedberg as Lorna Thompson
Valerie Wildman as Diane Weaver
Sal Landi as Sal Randazzo
James Ingersoll as Timothy Milner
Rachel Bailit as Stage Manager
Gene Ross as Desk Sergeant
Lew Saunders as Policeman
Tiffany Terry as Drip-Stop Girl
Community content is available under
CC-BY-SA
unless otherwise noted.