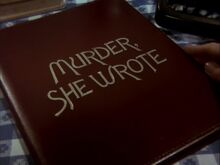 Murder, She Wrote: Season One
Murder, She Wrote: Season Two
Murder, She Wrote: Season Three
Murder, She Wrote: Season Four
Murder, She Wrote: Season Five
Episodes:

"Prediction: Murder"
Murder, She Wrote: Season Six
Murder, She Wrote: Season Seven
Murder, She Wrote: Season Eight
Murder, She Wrote: Season Nine
Murder, She Wrote: Season Ten
Murder, She Wrote: Season Eleven
Murder, She Wrote: Season Twelve
Murder, She Wrote: TV Movies
The Law & Harry McGraw
Novels
Games
DVDs
Production Information
Edit
Production Number:
Aired:
Written By:
Directed By:
INSERT EPISODE SCREENHOT HERE
Created By:
Executive Producers:
Producer
Lee Goddard successfully coaxes Jessica to join him at his ranch in Arizona but intrigue and murder follow them there when a mysterious psychic joins them.
This is the second time Dale Robertson has starred, but has been uncredited in the cast list, the previous one being Murder, She Wrote: The Last Flight of the Dixie Damsel (1988)l.
The auto crash sequence was filmed in miniature. The auto was a 'duplicate of the Chrysler hero car' - a miniature toy available at the time of filming.
The final restaurant scene with Dale Robertson and Angela Lansbury was filmed in the Universal Studios VIP commissary dining room prior to the studio's renovation of the room in 1990. The booth they occupy was always reserved for Lew Wasserman.
The ranch house exteriors, interiors, and stables were filmed on location in Hidden Hills. The rear patio area behind the foyer hallway staircase, including the the patio area behind the living room séance scene, were tented (black duvyteen tarp) for the film's night sequence, which were filmed during the day.
When Jill Goddard's car leaps off the top of the cliff when she is returning home after being kidnapped, it bounces down the cliffside before coming to rest firmly on its wheels; there is no explosion or fire. The whole crash is stock footage.
The next goof is this: Greta Olsen, the housekeeper had said to Jessica that she would never go back to her home country, even for Kris Kringle, so it would be suspicious that there was no story indicating how she had left in order the deceased in the car to be Greta, now was there ?
Regular Cast
Edit
Angela Lansbury as Jessica Fletcher
Recurring Cast
Edit
Dale Robertson as Lee Goddard
Guest Stars
Edit
Melody Anderson as Katherine Aaron
David Birney as Franchesco, The Psychic
Michael Parks as Benjamin "Ben" Aaron
Lisa Pelikan as Jill "Madame Moonbeam" Goddard (nee Haroldson)
Geoffrey Scott as Lieutenant Joshua Turner
Michael Spound as Del Goddard
DVD Release
Edit
Episode Chronology
Edit
External Links
Edit
Community content is available under
CC-BY-SA
unless otherwise noted.