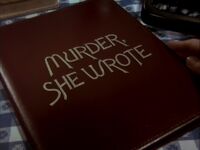 Murder, She Wrote: Season One
Murder, She Wrote: Season Two
Murder, She Wrote: Season Three
Murder, She Wrote: Season Four
Murder, She Wrote: Season Five
Murder, She Wrote: Season Six
Murder, She Wrote: Season Seven
Murder, She Wrote: Season Eight
Murder, She Wrote: Season Nine
Murder, She Wrote: Season Ten
Episodes:

"Portrait of Death"
"Roadkill"
Murder, She Wrote: Season Eleven
Murder, She Wrote: Season Twelve
Murder, She Wrote: TV Movies
The Law & Harry McGraw
Novels
Games
DVDs
Production Information
[
]
Production Number:
Aired:
Written By:
Directed By:
INSERT EPISODE SCREENHOT HERE
Created By:
Executive Producers:
Producer
Summary
[
]
Jessica comes to the rescue when a friend's sculpture is used as a murder weapon.
Victim: Philip Jovie
Killer: Frances McNean/Wanda Rae Scutnik
Cause of Death: Stabbed with Kim Mitchell's statue of Don Quixote.
Motive: Feared Jovie would identify her as the escaped cellmate of The Roommate's imprisoned artist.
Starring
[
]
Regular Cast
[
]
Angela Lansbury as Jessica Fletcher
Recurring Cast
[
]
Guest Stars
[
]
David Ackroyd as Bert Lown
Herb Edelman as NYPD Lieutenant Artie Gelber (as Herbert Edelman)
Denise Gentile as Teddy Grace
Edward Hibbert as Philip Jovie
Taylor Nichols as Mark Mitchell
Lee Purcell as Frances McNean
Diane Salinger as Sondra Arthur
Loretta Swit as Kim Mitchell
Kristoffer Tabori as Dr. Swope
Leonard Lightfoot as Detective Henderson
Greg Lewis as Maintenance Man
Bainbridge Scott as Dede
Vince Howard as (Real) Dr. Swope (as Vincent Howard)
Jonathan Knopf as Art Dealer
Goofs
[
]
Frances may have seen the portrait of The Roommate when the cover was removed from it while Jessica was signing the museum guest book, but the assistant still was holding the painting before she stored it away, so how could Frances have stolen the painting before the assistant put the painting where the rest of auctioned art was kept ?
See Also
External Links
[
]