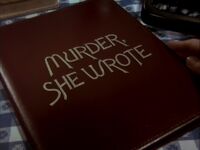 Murder, She Wrote: Season One
Murder, She Wrote: Season Two
Murder, She Wrote: Season Three
Episodes:

"One White Rose for Death"
Murder, She Wrote: Season Four
Murder, She Wrote: Season Five
Murder, She Wrote: Season Six
Murder, She Wrote: Season Seven
Murder, She Wrote: Season Eight
Murder, She Wrote: Season Nine
Murder, She Wrote: Season Ten
Murder, She Wrote: Season Eleven
Murder, She Wrote: Season Twelve
Murder, She Wrote: TV Movies
The Law & Harry McGraw
Novels
Games
DVDs
Production Information
[
]
Production Number:
Aired: October 19, 1986
Written By: Peter S. Fischer
Directed By: Peter Crane
INSERT EPISODE SCREENSHOT HERE
Created By: Peter S. Fischer, Richard Levinson & William Link
Executive Producers: Peter S. Fischer
Producer: Robert F. O'Neill
Summary
[
]
While attending a concert in Washington, D.C., Jessica gets involved with two East German defectors and a murder.
Trivia
[
]
Per the title, The White Rose was a resistance group in Nazi Germany consisting of students and professors from the University of Munich whom offered nonviolent resistance to the the Nazis.
Bernard Fox (Andrew Wyckham) and Eric Braeden (Col. Brunner) who appear together in this episode, both starred in Herbie Goes to Monte Carlo and Titanic.
While Franz and Greta are talking to Jessica the first time, Franz said, Greta and he could not have escaped East Germany without the help of Conrad Schumann. Conrad Schumann was the first person who escaped over the Berlin Wall that lived to tell about it.
Michael Anderson Jr. (Dr. Lynch) and Jenny Agutter (Margo) also co-starred together on the movie Logan's Run (1976).
Victim: Jack Kendall
Killer: Andrew Wyckham
Cause of death: Stabbed.
Motive: Kendall recognized him from "White Rose" and he feared he might realize his plans to assassinate the British Prime Minister.
When Jessica saw how Andrew Wyckham & Jack Kendall reacted in seeing each other, she spotted that they knew each other, but yet Andrew & Jessica didn't know that the chauffeur was replaced by Jack Kendall until Andrew & Jessica was being ushered into the limo, so with not knowing who the chauffeur was replaced was being replaced with, why fear exposure ?
Starring
[
]
Regular Cast
[
]
Recurring Cast
[
]
Len Cariou as Agent Michael Hagarty
Guest Stars
[
]
Jenny Agutter as Margo Claymore
Michael Anderson, Jr. as Doctor Lynch
Tony Bonner as Henry Claymore
Eric Braeden as Colonel Gerhardt Brunner
Bernard Fox as Andrew Wyckham
John Glover as Franz Mueller
Maria Mayenzet as Greta Mueller
Co-Stars
[
]
Warwick Sims as Jack Kendall
Julian Barnes as British Sergeant
DVD Release
[
]
Murder, She Wrote: the Complete Second Season.
Episode Chronology
[
]
See Also
[
]
External Links
[
]