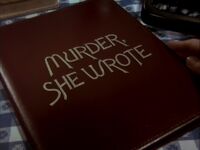 Murder, She Wrote: Season One
Murder, She Wrote: Season Two
Murder, She Wrote: Season Three
Murder, She Wrote: Season Four
Episodes:

"Old Habits Die Hard"
"Deadpan"
Murder, She Wrote: Season Five
Murder, She Wrote: Season Six
Murder, She Wrote: Season Seven
Murder, She Wrote: Season Eight
Murder, She Wrote: Season Nine
Murder, She Wrote: Season Ten
Murder, She Wrote: Season Eleven
Murder, She Wrote: Season Twelve
Murder, She Wrote: TV Movies
The Law & Harry McGraw
Novels
Games
DVDs
Production Information
[
]
Production Number:
Aired:October 11th, 1987
Written By: Chris Manheim
Directed By: John Llewellyn Moxey
INSERT EPISODE SCREENSHOT HERE
Created By: Peter S. Fischer, Richard Levinson, & William Link
Executive Producers: Peter S. Fischer
Producer: Robert F. O'Neill
Summary
[
]
Jessica visits a convent to see a former sorority sister and winds up searching for a nun's killer.
Trivia
[
]
This was Audrey Totter's final acting role before her death on December 12, 2013 at the age of 95.
The convent scenes were filmed at Ramona Convent Secondary School in Alhambra, CA, an all girls Catholic Jr. High and High School. The school's main building, where most interior and exterior filming was done, was irreparably damaged during the Whittier Narrows Earthquake on October 1, 1987, 10 days before this was aired. The main building was demolished December 11, 1987, 18 months short of it's 100 year anniversary.
Although the building used as the convent dated back to 1889, it did not have any secret passages, underground or otherwise.
The young nun, Sarah Martino, was played by Sherri Stoner, who would later go on to be a writer for such cartoons as Animaniacs & the 7D.
Victim: Sister Emily
Killer: Marian Simpson
Cause of death: Overdose of medication via injection.
Motive: Worried the sister's research would reveal information about Linda Stone, thereby exposing her husband, Mayor Albert Simpson's getting her pregnant and ruin his career and her perfect life.
Starring
[
]
Regular Cast
[
]
Angela Lansbury as Jessica Fletcher
Recurring Cast
[
]
Guest Stars
[
]
Eileen Brennen as Marian Simpson
Cindy Fisher as Nancy Bates
Clu Gulager as Ray Carter
Evelyn Keyes as Sister Emily
Mark Keyloun as Mike Phelps
Ed Nelson as Mayor Albert Simpson
Scott Paulin as Dr. Greg Marshall
Jane Powell as Reverand Mother Claire
Robert Proskey as Bishop Patrick Shea
Sherri Stoner as Sarah Martino
Audrey Totter as Sister Paul
DVD Release
[
]
Episode Chronology
[
]
See Also
[
]
External Links
[
]