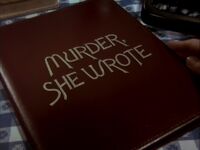 Murder, She Wrote: Season One
Murder, She Wrote: Season Two
Murder, She Wrote: Season Three
Episodes:

Murder, She Wrote: Season Four
Murder, She Wrote: Season Five
Murder, She Wrote: Season Six
Murder, She Wrote: Season Seven
Murder, She Wrote: Season Eight
Murder, She Wrote: Season Nine
Murder, She Wrote: Season Ten
Murder, She Wrote: Season Eleven
Murder, She Wrote: Season Twelve
Murder, She Wrote: TV Movies
The Law & Harry McGraw
Novels
Games
DVDs
Production Number:
Aired: December 7th, 1986
Teleplay by: Robert Van Scoyk

Story by: Bob Shayne

Directed By: Walter Grauman
INSERT EPISODE SCREENSHOT HERE
Created By: Peter S. Fischer, Richard Levinson & William Link
Executive Producers: Peter S. Fischer
Producer: Robert F. O'Neill
When an obnoxious out-of-town TV personality is murdered, it's up to Jessica to figure out the killer.
Jessica's middle name is Beatrice.
This was Richard Paul's first appearance as Cabot Cove's do nothing mayor Sam Booth.
Victim: Doug Helman
Killer: Nick Brody
Cause of death: Explosion.
Motive: Was going to be replaced by two younger anchors, due to ratings.
With how Kevin Keats kept to himself & not wanting anyone to know where he is at all costs, why would he risk calling Doug to meet him on the boat in order for Nick to kill Kevin Keats, given that the ending revealing who killed who, given that Nick had no motive to kill Doug Hellman, given that everybody believed that Kevin was blown up, even if he had motive to kill Doug, he still would have learned he was being replaced before all of them showed up in Cabot Cove, wouldn't you think ?
Angela Lansbury as Jessica Fletcher
Tom Bosley as Sheriff Amos Tupper
Robert Hogan as Dr. Wylie Graham
Richard Paul as Mayor Samuel Booth
Abby Dalton as Judith Keats
Chad Everett as Kevin Keats
Robert Lipton as Richard Abbott
Kathleen Lloyd as Paula Roman
Robert Pine as Doug Helman
Rex Robbins as George Fish
Mark Stevens as Nick Brody
Erik Stern as Gerald Foster
Community content is available under
CC-BY-SA
unless otherwise noted.