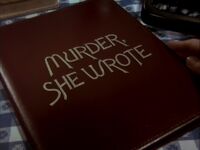 Murder, She Wrote: Season One
Murder, She Wrote: Season Two
Murder, She Wrote: Season Three
Murder, She Wrote: Season Four
Murder, She Wrote: Season Five
Murder, She Wrote: Season Six
Murder, She Wrote: Season Seven
Murder, She Wrote: Season Eight
Murder, She Wrote: Season Nine
Murder, She Wrote: Season Ten
Episodes:

"Northern Explosion"
"Roadkill"
Murder, She Wrote: Season Eleven
Murder, She Wrote: Season Twelve
Murder, She Wrote: TV Movies
The Law & Harry McGraw
Novels
Games
DVDs
Production Information
[
]
Production Number:
Aired:
Written By:
Directed By:
INSERT EPISODE SCREENHOT HERE
Created By:
Executive Producers:
Producer
Summary
[
]
While stranded in a small Canadian town, Jessica helps the Mounties solve two local murders.
Victim(s): Hamish McPherson and Rick Shipley
Killer: Marie Camouche-Nasmith
Cause of Death: Explosion due to blowing up a bridge he was standing on; gunshot to the head (made to look like suicide)
Motive: Wanted revenge on Shipley after he killed her husband during the robbery he committed, and intended to kill him with the bridge bomb, not knowing McPherson would show up instead.
Trivia
[
]
This was nominated for the 4th annual Environmental Media Awards 1994.
Although set in Canada, no filming actually took place there.
The title is a play on word to the tv show Northern Exposure.
Starring
[
]
Regular Cast
[
]
Angela Lansbury as Jessica Fletcher
Recurring Cast
[
]
Guest Stars
[
]
Ana Alicia as Sgt. Hilda Dupont
Brian Frejo as George Quill
Alan Fudge as Brian Wade
Graham Greene as Peter Henderson
Jerry Hardin as Hamish McPherson
Marilyn Jones as Marie Comouche
Ernie Lively as Richard 'Rick' Shipley
Scott Plank as Buzz Berkeley
Ned Romero as Joe Quill
Matt McKenzie as Cpl. Desmond O'Gara
Shawn Michael Perry as Bill Nahanee
Episode Chronology
[
]
See Also
[
]
External Links
[
]