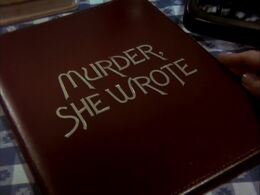 Murder, She Wrote: Season One
Murder, She Wrote: Season Two
Murder, She Wrote: Season Three
Murder, She Wrote: Season Four
Murder, She Wrote: Season Five
Murder, She Wrote: Season Six
Episodes:

"Night of the Tarantula"
Murder, She Wrote: Season Seven
Murder, She Wrote: Season Eight
Murder, She Wrote: Season Nine
Murder, She Wrote: Season Ten
Murder, She Wrote: Season Eleven
Murder, She Wrote: Season Twelve
Murder, She Wrote: TV Movies
The Law & Harry McGraw
Novels
Games
DVDs
Production Information
[
]
Production Number:
Aired: November 12th, 1989
Written By: Chris Manheim
Directed By: Vincent McEveety
INSERT EPISODE SCREENSHOT HERE
Created By: Peter S. Fischer, Richard Levinson & William Link
Executive Producers: Peter S. Fischer
Producers: Robert E. Swanson & Robert Van Scoyk
Summary
[
]
Voodoo black magic is the apparent cause of death of her host, leaving Jessica to figure out the truth while visiting an old friend in Jamaica.
Trivia
[
]
Partially filmed on the set of Fantasy Island (1977). To be more precise, the home of Mr. Roarke.
Darrow Igus, who plays the Sergeant. is best known as a cast member of the sketch series Fridays, which served as a competitor to Saturday Night Live in the late 80's.
Victim: Harry Waverly
Killer: Jean-Pierre Dusant
Cause of death: Strangulation
Motive: To eliminate all the Waverlys, save Mark who would marry his daughter Michelle, so she would inherit their estate.
Goofs
[
]
The constant bird sound heard is a native Australian Kookaburra.
There was no voodoo of any kind in this episode, because the whole story was to prove that Jean-Michel made the obeah doll & planted the rat poison in the drink & George used horror movie make-up to give the illusion of the voodoo curse. Yes, the beginning showed the voodoo practices, but Helen Keller can see for herself that it was all staged, because one of the followers showed that, that he didn't want to be there, now did he ?
Starring
[
]
Regular Cast
[
]
Angela Lansbury as Jessica Fletcher
Guest Stars
[
]
Cheryl Arutt as Michelle Dusant
Grand L Bush as George Gordon
Hurd Hatfield as Jean-Pierre Dusant
Ji-Tu (Cambuka) as Calder Williams
James Lancaster as Mark Waverly
Patrick Massett as Adam Waverly
John Rhys-Davies as Harry Waverly
Nancy Valen as Selina Waverly
Shani Wallis as Olivia Waverly
DVD Release
[
]
Episode Chronology
[
]
See Also
[
]
External Links
[
]