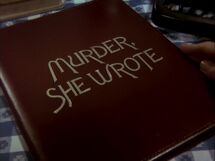 Murder, She Wrote: Season One
Murder, She Wrote: Season Two
Murder, She Wrote: Season Three
Murder, She Wrote: Season Four
Murder, She Wrote: Season Five
Murder, She Wrote: Season Six
Murder, She Wrote: Season Seven
Murder, She Wrote: Season Eight
Murder, She Wrote: Season Nine
Episodes:

"The Mole"
"Night of the Coyote"
"Dead Eye"
Murder, She Wrote: Season Ten
Murder, She Wrote: Season Eleven
Murder, She Wrote: Season Twelve
Murder, She Wrote: TV Movies
The Law & Harry McGraw
Novels
Games
DVDs
Production Information
[
]
Production Number:
Aired:
Written By:
Directed By:
INSERT EPISODE SCREENHOT HERE
Created By:
Executive Producers:
Producer
Summary
[
]
Jessica helps the sheriff of an old Western town solve a murder that is connected to a legendary stagecoach robber's long-lost treasure.
Trivia
[
]
In Murder, She Wrote: Night of the Coyote (1992), Sheriff Sam Keeyani (Graham Greene) gives the definition of Anasazi, as "ancient enemies" and Jessica accepts this. In Murder, She Wrote: Murder Digs Deep (1985), Jessica uses the definition of Anasazi as 'the ancient ones," (not enemies) to determine Raymond Two Crows (Randolph Mantooth) was impersonating a native expert. The word Anasazi belongs to the Navajo language and means "the ancient ones".
Starring
[
]
Regular Cast
[
]
Angela Lansbury as Jessica Fletcher
Guest Stars
[
]
Frederick Coffin
Steve Forrest
Graham Greene as Sheriff Sam Keeyani
Mariette Hartley
Gary Kaspar
James Stephens
Nicholas Surovy
Floyd "Red Crow" Westerman
Co-Stars
[
]
Joanelle Nadine Romero as Alice Chee
Laura Wernette as Betty
Roman J. Cisneros as Unnamed Deputy
Ernie Vincent as Mr. Wheatman
Episode Chronology
[
]
See Also
[
]
External Links
[
]
another trivia question? In the scene where Jessica is in the Coyote canyon and turns around and sees Graham green after they talk, before he disappears he finds Jessica's pen she was missing. The brand name of the pen was a pelican Souveran black and green. My question is was it a rollerball pen or a fountain pen and from what collection did it come from the 200 series 4 00 600 800 or 1000. After Graham green disappears Jessica finds your pen holds it up and kisses it (cuz they're very expensive mind you) and then walks off.