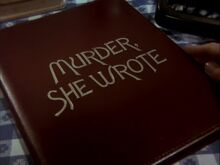 Murder, She Wrote: Season One
Murder, She Wrote: Season Two
Episodes:

Murder, She Wrote: Season Three
Murder, She Wrote: Season Four
Murder, She Wrote: Season Five
Murder, She Wrote: Season Six
Murder, She Wrote: Season Seven
Murder, She Wrote: Season Eight
Murder, She Wrote: Season Nine
Murder, She Wrote: Season Ten
Murder, She Wrote: Season Eleven
Murder, She Wrote: Season Twelve
Murder, She Wrote: TV Movies
The Law & Harry McGraw
Novels
Games
DVDs
Production Number:
Aired:
October 13th, 1985
Teleplay By:
Paul Savage
Story By:
Paul W. Cooper
Directed By:
Arthur Allan Seidelman
INSERT EPISODE SCREENSHOT HERE
Created By:
Peter S. Fischer, Richard Levinson & William Link
Executive Producers:
Peter S. Fischer
Producer
Robert F. O'Neill
Jessica goes to visit her niece, Nita Cochran, who is an actress in a daytime soap opera, featuring the mysterious masked murderer "The Avenger." Jessica uncovers drama on the set, as actors are being cut from the show, and arguments and legal problems ensue, and everyone on the cast wishes that "top dog of the studio" Joyce Holleran was dead. Soon their wishes come true when Joyce Holleran is shot to death in her office by someone dressed as the Avenger. To further complicate things, Jessica's niece is accused of the crime and Jessica is determined to find out who the real killer is: on and off the show.
Lloyd Nolan died before this aired.
Introduction of Jessica's niece Nita Cochran. It is unclear whether she is Jessica's niece by blood or by marriage, but her parents (unnamed) are both deceased and she was raised by her grandmother, Agnes.
Victim: Joyce Holleran
Killer: Larry Holleran
Cause of death: Gunshot.
Motive: Worried Joyce would learn of his affair with Bibi Hartman, which would likely result in him being fired/divorced and losing a large amount of money.
When Joyce is in her office typing, she is using an electric typewriter. However, the sound effects are for a manual typewriter (including a carriage return).
Angela Lansbury as Jessica Fletcher
William Atherton as Larry Holleran
Paul Burke as Herbert Upton
Nicholas Hammond as Todd Worthy
Terry Kiser as Gordon LaMonica
Alice Krige as Nita Cochran
Robert Lipton as Martin Grattop
Lloyd Nolan as Julian Tenley
Tricia O'Neil as Bibi Hartman
Mackenzie Philips as Carol Needom
Lurene Tuttle as Agnes Cochran
Robert Walden as Lt. Antonelli
Jessica Walter as Joyce Holleran
Community content is available under
CC-BY-SA
unless otherwise noted.