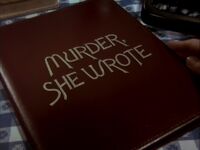 Murder, She Wrote: Season One
Murder, She Wrote: Season Two
Murder, She Wrote: Season Three
Murder, She Wrote: Season Four
Murder, She Wrote: Season Five
Murder, She Wrote: Season Six
Murder, She Wrote: Season Seven
Murder, She Wrote: Season Eight
Murder, She Wrote: Season Nine
Murder, She Wrote: Season Ten
Episodes:

"Murder in White"
"Roadkill"
Murder, She Wrote: Season Eleven
Murder, She Wrote: Season Twelve
Murder, She Wrote: TV Movies
The Law & Harry McGraw
Novels
Games
DVDs
Production Number:
Aired:
Written By:
Directed By:
INSERT EPISODE SCREENHOT HERE
Created By:
Executive Producers:
Producer
When Jessica is called to London to rewrite the stage adaptation of her novel, she must prove her actress friend innocent of killing a producer.
Even though set in England, no scenes were filmed there.
They refer to John Camden as the 17th Earl of Glen Haven. Then at the end, it is mentioned that his son cannot abdicate and will always be the 17th earl. As the son, he would be the 18th earl.
Edward fails to remember Edward the VIII, who abdicated for Wallis Simpson, so you tell me as to how Brett can't abdicate ?
Angela Lansbury as Jessica Fletcher
Pauline Brailsford as Detective Chief Insp. Ellen Jarvis
Davis Gaines as Peter Drew
Norman Lloyd as Edward St. Cloud
Jean Marsh as Glenda Highsmith
Anne Meara as Mae Shaughnessy
Ian Ogilvy as Lawson Childress
Michael Palance as Franklin Smith
Dedee Pfeiffer as Sally Briggs
Jim Piddock as Malcolm Brooker
Tim Ransom as Brett Dillon
Robin Sachs as Martin Kramer
G.W. Stevens as Oliver Hopkins (as G. W. Stevens)
Jonathan Wood as Insp. Ernest Martindale
Edmund L. Shaff as Lester Perth (as Edmund L Shaff)
Gale Van Cott as Policewoman
Sean Howse as Policeman #1 (as Seãn Francis Howse)
Nick Meaney as Waiter at Binkie's (as Nick Meany)
Community content is available under
CC-BY-SA
unless otherwise noted.