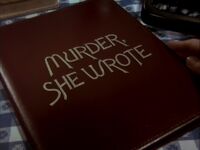 Murder, She Wrote: Season One
Murder, She Wrote: Season Two
Murder, She Wrote: Season Three
Murder, She Wrote: Season Four
Murder, She Wrote: Season Five
Murder, She Wrote: Season Six
Murder, She Wrote: Season Seven
Murder, She Wrote: Season Eight
Murder, She Wrote: Season Nine
Murder, She Wrote: Season Ten
Murder, She Wrote: Season Eleven
Episodes:

"Murder in High-C"
Murder, She Wrote: Season Twelve
Murder, She Wrote: TV Movies
The Law & Harry McGraw
Novels
Games
DVDs
Production Information
[
]
Production Number:
Aired:
Written By:
Directed By:
INSERT EPISODE SCREENHOT HERE
Created By:
Executive Producers:
Producer
Starring
[
]
Regular Cast
[
]
Recurring Cast
[
]
Guest Stars
[
]
Bruce Abbott as Drew Granger
Lorenzo Caccialanza as Insp. Piero Amati
Charles Cioffi as Paul Faber
Robert Costanzo as Rudolfo Petrocelli
John Getz as Jonas Cole
Khrystyne Haje as Andrea Beaumont
Carol Lawrence as Stella Knight
Pierrino Mascarino as Carlo Rossoni
Ely Pouget as Vicki Lawson
Anthony Marciona as Stage Manager
Benito Prezia as Doctor
Sam Ingraffia as Officer Spinato
There was no story for Petrocelli to know who was behind the plot. Was there a story for Petrocelli to follow Andrea? Then, all they can prove is that Jonas & Vicki had possession of the tapes, that doesn't mean that it was VIcki who was playing them, because there was no story for the cues for her to play them until Jonas had made the call to Vicki that Jessica had brought up in the police station.
Summary
[
]
Episode Chronology
[
]
See Also
[
]
External Links
[
]