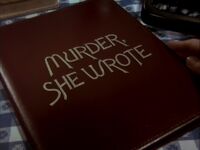 Murder, She Wrote: Season One
Murder, She Wrote: Season Two
Murder, She Wrote: Season Three
Murder, She Wrote: Season Four
Murder, She Wrote: Season Five
Murder, She Wrote: Season Six
Murder, She Wrote: Season Seven
Murder, She Wrote: Season Eight
Murder, She Wrote: Season Nine
Murder, She Wrote: Season Ten
Episodes:

"Murder at a Discount"
"Roadkill"
Murder, She Wrote: Season Eleven
Murder, She Wrote: Season Twelve
Murder, She Wrote: TV Movies
The Law & Harry McGraw
Novels
Games
DVDs
Production Information
[
]
Production Number:
Aired:
Written By:
Directed By:
INSERT EPISODE SCREENHOT HERE
Created By:
Executive Producers:
Producer
Summary
[
]
One of Jessica's best-selling mysteries makes her the target of a lawsuit by a man who was tried and acquitted for murder.
Trivia
[
]
Julianna Margulies would go on to play another lawyer in The Good Wife (2009). 
Victim(s): Janet Trent Novaro (happened 5 years prior) and Dave Novaro
Killer: Iris Novaro
Cause of Death: Struck over the head with an unknown object to frame Dave Novaro; bludgeoned with a cane to frame Norman Trent.
Motive: Jealousy after learning she planned to reconcile with Dave; he threatened to call the police after deducing she was Janet's killer.
Starring
[
]
Regular Cast
[
]
Angela Lansbury as Jessica Fletcher
Recurring Cast
[
]
Guest Stars
[
]
Sam Anderson as Neil Fraser
Herb Edelman as Lt. Artie Gelber (as Herbert Edelman)
John Enos III as Randy Konig (as John Enos)
Morgan Fairchild as Iris Novaro
Spencer Garrett as Aaron Woodman
Bruce Gray as Ted Hartley
Elaine Joyce as Lillian Conway
Julianna Margulies as Rachel Novaro
George Segal as Dave Novaro
Sandy Ward as Norman Trent
Leonard Lightfoot as Detective Henderson
John Allsopp as Jed Collins
John Petlock as Man
James Daughton as Minister
Darnell Harrison as Video Director
Robert Rigamonti as Maitre D'
Jenny Burgess as Receptionist
Sylvia Sage as Bag Lady (as Sylvia Sage Lane)
Episode Chronology
[
]
See Also
[
]
External Links
[
]