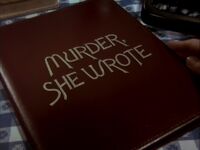 Murder, She Wrote: Season One
Murder, She Wrote: Season Two
Murder, She Wrote: Season Three
Murder, She Wrote: Season Four
Episodes:

"Murder Through the Looking Glass"
"Deadpan"
Murder, She Wrote: Season Five
Murder, She Wrote: Season Six
Murder, She Wrote: Season Seven
Murder, She Wrote: Season Eight
Murder, She Wrote: Season Nine
Murder, She Wrote: Season Ten
Murder, She Wrote: Season Eleven
Murder, She Wrote: Season Twelve
Murder, She Wrote: TV Movies
The Law & Harry McGraw
Novels
Games
DVDs
Production Information
[
]
Production Number:
Aired: February 21st, 1988
Written By: Robert Van Scoyk
Directed By: Seymour Robbie
INSERT EPISODE SCREENSHOT HERE
Created By: Peter S. Fischer, Richard Levinson & William Link
Executive Producers: Peter S. Fischer
Producer: Robert F. O'Neill
Summary
[
]
While in Connecticut for a convention, Jessica hears the dying confession of a hit man, and uncovers a mysterious safe house housing an important foreign dignitary.
Trivia
[
]
Second episode in which there are two separate killers for both victims, albeit working together; the first was Trial by Error.
Jackson mentions that Jessica outwitted a KGB agent and helped two Russian ballet dancers defect, referring to the events of Death Takes a Curtain Call.
Victim(s): Adams & Delgado
Killer(s): Unnamed hit man & Charlie Van Buran
Cause of death: Two gunshots; strangulation.
Motive: To prevent Adams from overseeing the safe house, so Van Buren could safely assassinate Delgado, due to being paid by representatives from his country to do so.
Don't you think that it's very juvenile to kill Delgado to prevent who oversees what ?
Also, Van Buren may have known where the hit went down, showing that he had put the hit in motion, but still Jackson would never allow to agents to be there at the same time to allow the other to kill who, now would he ?
Starring
[
]
Regular Cast
[
]
Angela Lansbury as Jessica Fletcher
Recurring Cast
[
]
Guest Stars
[
]
Cliff DeYoung as Father Patrick Francis
Laurence Luckinbill as Sergeant Douglas Cooper
Robert Reed as Henry Jackson
Mark Shera as Charlie Van Buran
Dan Shor as Pierce Dursley
Gregory Sierra as Augustus Sanchez
Karen Valentine as Ellen Cosgrove
Victor Mohica as Delgado
DVD Release
[
]
Murder, She Wrote: The Complete Fourth Season
Episode Chronology
[
]
See Also
[
]
External Links
[
]